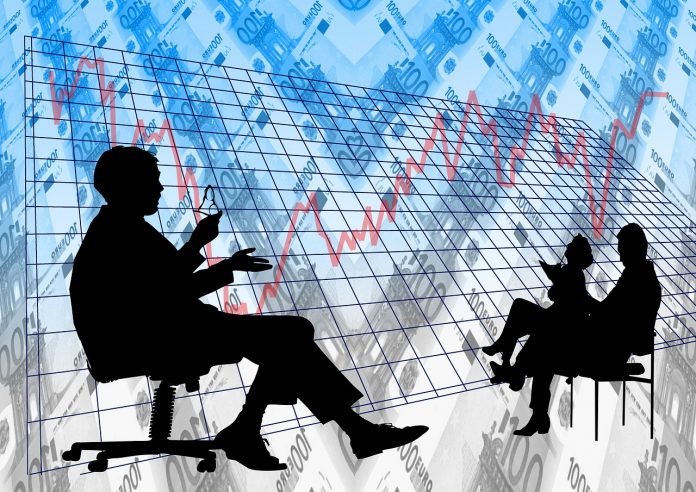 Here's What Was in the Q3 Earnings Report
Facebook's Mark Zuckerberg reported on Facebook's Q3 earnings after the closing bell on Tuesday. Investors were hoping the company could beat expectations on earnings per share, revenues, and stronger user engagement.
They got one out of three. And traders weren't quite sure how to take the news, as reported by our analysts:
Earnings per share (EPS): $1.76 ABOVE $1.47 estimated, per Refinitv
Revenue: $13.73 billion BELOW $13.78 billion estimated, per Refinitiv
Daily active users (DAUs): 1.49 billion BELOW51 billion estimated, according to FactSet and StreetAccount
Monthly active users (MAUs): 2.27 billion BELOW29 billion estimated, according to FactSet and StreetAccount
Facebook saw its shares whipsaw up by as much as 5% and down as much as 6% after the earnings call, eventually settling at a net gain of 3%. Wednesday's stock market rally has since added to those gains.
But has Facebook seen the worst of this decline? Or could there still be more pain in the near to midterm?
Investors Have Good Reason to Believe We've Reached Peak Facebook
From Russian investigations and the Cambridge Analytica scandal to the sudden resignations of Instagram's founders, Kevin Systrom and Mike Kriege, Facebook has had a bad year plagued by scandals of its own making.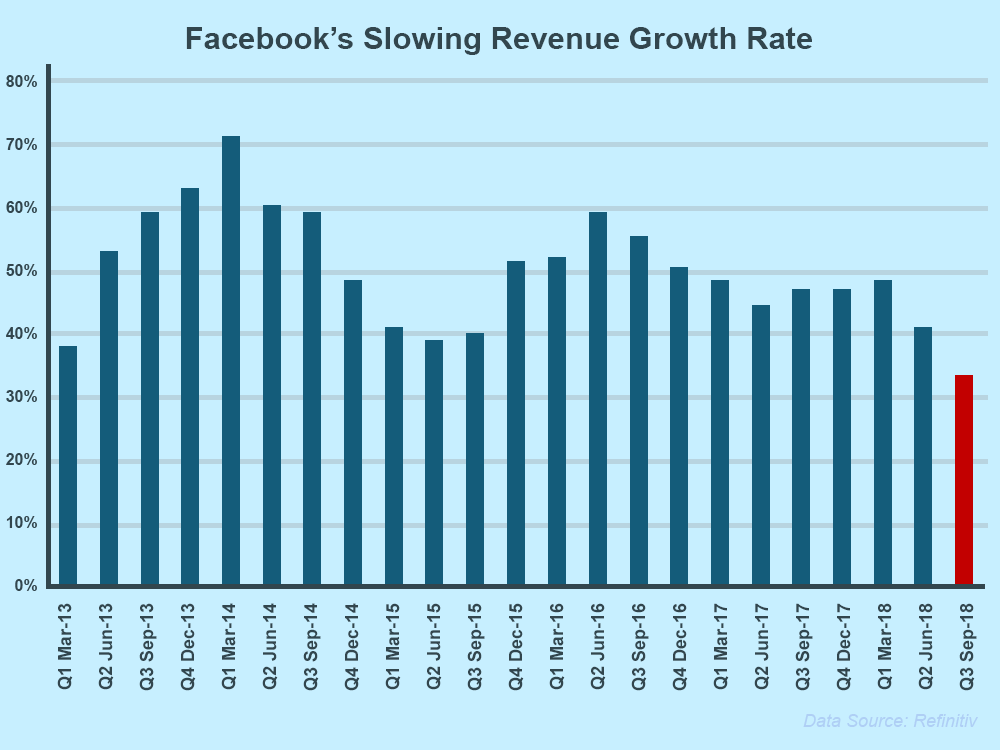 But the real issue for investors is in the numbers, and nothing clarifies this concept more than Facebook's declining revenue growth.
And yet, as revenue growth has slowed, Facebook stock continues to rise over the same period. Could this be the bearish diversion that brings Facebook shares under its years' long bullish trend line?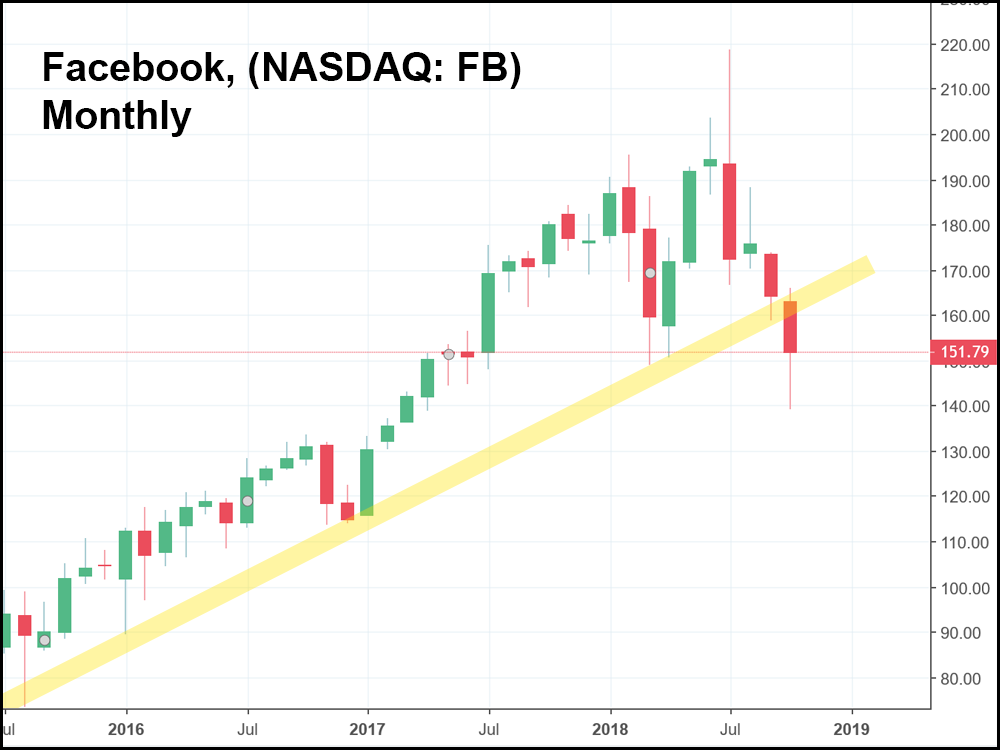 Maintaining that trend line means shoring up the company's reputation and keeping daily and monthly user growth from hemorrhaging any further. Unfortunately, this may be easier said than done.
From FAANG, to AANG?
No other stock so accurately depicts the rise and fall of FAANG as Facebook, which has shed over a third of its valuation within a period of just four short months. While Netflix holds the dubious distinction of being the FANG stock with the deepest losses in October (20%), Facebook is by far the biggest loser of the group, if measured from peak shares to Monday's capitulation (if that was capitulation).
Out of Facebook, Amazon, Netflix and Google, it's Facebook which could prove to be the weakest link. The company has barreled through months of congressional investigations, stagnating user numbers, and bad press, and it's unclear to investors whether they've seen the end of it.
While true that Facebook technically surpassed analyst expectations for EPS, this report is looking more and more like an earnings miss. The company's biggest issue, slowed user growth, is still a problem. Unless investors see an uptrend develop soon, there could be more short-term pain for FB bulls, because it doesn't look like the lackluster Q3 earnings will be enough to encourage buyers.
In other words, we may be chopping off the head of the FAANG acronym sooner than we think – something that seemed unthinkable in the past during Facebook's meteoric rise.