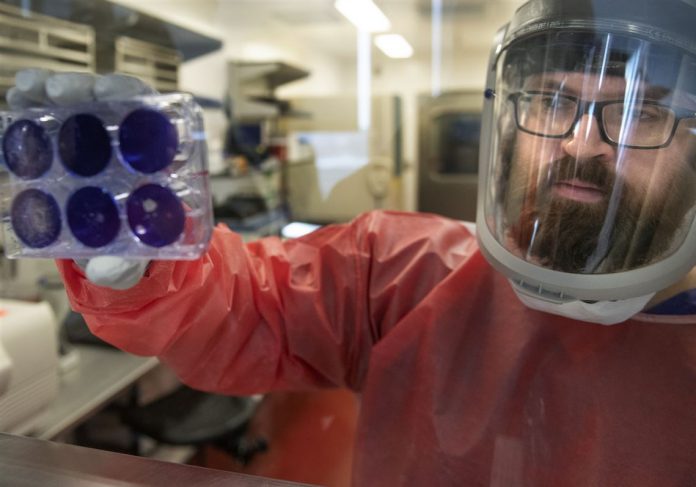 Moving on up?
That's where investors seem to think the market's headed after JPMorgan Chase reported an earnings "beat" this morning. Spurred on by strong trading revenues, the bank did far better than expected in Q2.
Retail banking operations, on the other hand, fell well short of the mark. JPMorgan Chase lost $176 million in that portion of its business. Last year, it raked in $4.2 billion in profit.
Still, earnings-per-share (EPS) impressed ($1.38 vs. $1.04 expected) and, following some early turbulence, stocks surged.
The Dow, S&P, and Nasdaq Composite all closed higher on the day as a result. Making matters even better was a Covid-19 case increase in Florida that fell below the state's 7-day average. California saw its daily case gain shrink as well.
The icing on the cake, however, was a statement from biotech firm Moderna. The company said after-hours that its coronavirus vaccine trial produced "robust" immune responses in every participating patient.
The hits just kept on coming, almost without pause. Big Tech, meanwhile, didn't quite join in on the day's rally as FAANG stocks stalled.
"I think this is the quarter that the underperforming sectors will mean revert higher because we have likely overdone that trade that has ignored everything cyclical," Art Hogan, chief market strategist at National Securities, said.
"It's going to be very difficult for us to take a look at Microsoft, Apple, or Amazon and try to confirm those rallies with something we learn from the second quarter."
"Mad Money" host Jim Cramer remains cautious as well.
"That turnaround yesterday, the pirouette where it went back down, you don't just snap out of that in one day," Cramer said earlier in the day.
"There are too many people who bought at the top who are trying to figure out, 'Lord get me back to even.' Let this play out. We don't even know which group is going to come to the fore here. Will it be the companies that do better because people think a vaccine is upon us? I can't buy into that theory but that was the theory yesterday afternoon."
And based on the S&P 500's recent price action, Cramer's got every right to be suspicious. Even with a strong showing from Moderna's vaccine trial.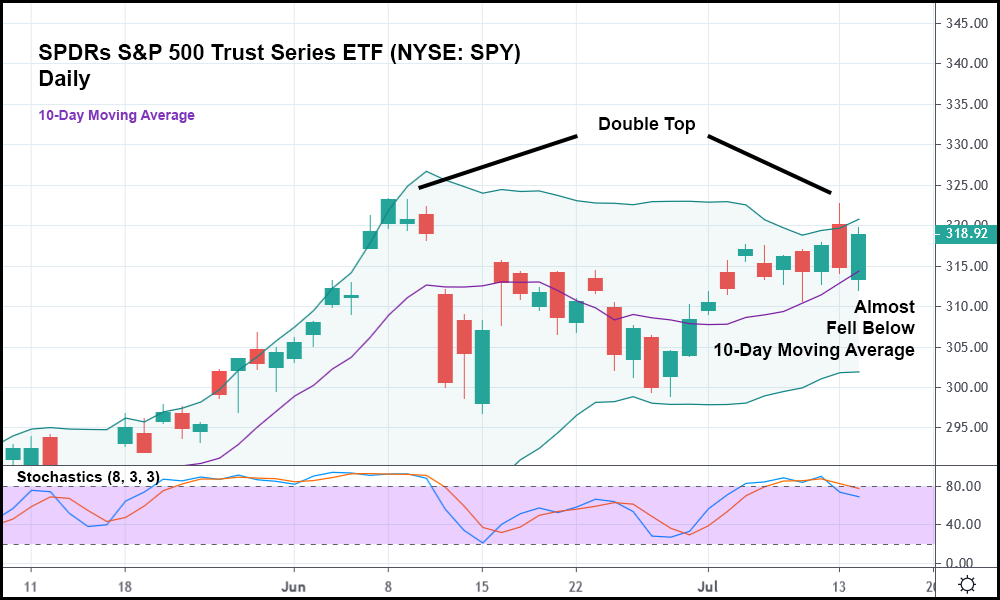 The S&P 500, as represented by the SPY, has set the dreaded double top formation – a pattern that often precedes trend reversals.
If the SPY fails to break out past that top, the index could very easily tumble to its mid-June low. If support fails at that point, a bigger sell-off would likely ensue.
Conversely, the SPY could also punch higher past resistance near its recent top. The problem with that, however, is the presence of Q2 earnings.
Earnings season is here, and CEOs will likely trot-out the same guidance as Q1. They simply don't know what's going to happen, and if anything, revenues will disappoint.
Not everyone can make a killing in the fixed income markets (like JPMorgan Chase did), after all.
So, over the next week, even in the presence of a promising vaccine candidate, the market still has plenty of work to do before we can call-off the bears for good. We might almost be there, but at present, exhibiting some caution is warranted.