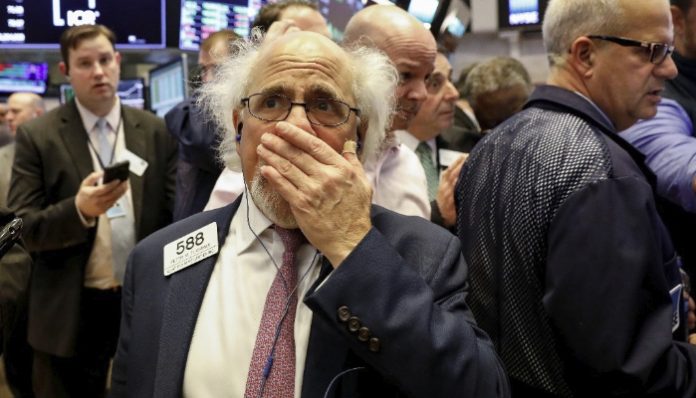 Equities are stumbling this morning as the Covid-19 rally continues to lose steam. The market looks somewhat "crisscrossed" as a result.
The Dow (-0.80%) and S&P (-0.55%) are down on the day opposite the Nasdaq Composite (+0.30%), which sits atop a new all-time high.
Relative to the market's recent gains, today's moves seem quite tame by comparison. FAANG-member stocks Amazon (NASDAQ: AMZN) and Apple (NASDAQ: AAPL), however, have gained more than 2% as of midday. Both stocks set new highs in doing so.
Adding to the stress of the extended rally, which appears due for a sell-off all on its own, is new coronavirus infection data out of freshly reopened states.
Texas reported record increases in Covid-19 hospitalizations over the last two days. On Monday, 1,935 patients in Texas were being treated for coronavirus-related symptoms. By Tuesday afternoon, that number grew to 2,056.
Arizona's experiencing an uptick in hospitalizations, too, casting doubts on how rapid a full economic recovery in the U.S. will be.
"It's a concerning trend because it's going in the wrong direction," Ann-Marie Alameddin, CEO of the Arizona Hospital and Healthcare Association, said.
"We need people to stay safe so the hospital capacity can be preserved. There is capacity currently in the system, but yeah I think I would like to see the trend stop in terms of increasing and start to go down."
John Wittman, a spokesman for Texas Governor Greg Abbott, explained that Texas similarly has ample capacity for new hospitalizations.
"Every Texan who needs access to a hospital bed will have access to a hospital bed," Wittman said.
"Current hospital capacity includes 15,402 available beds, 1,723 ICU beds, and 5,911 ventilators, with the ability to surge capacity in regions across the state if necessary."
Wittman also said that the additional cases are likely due to increased testing. The number of Covid-19 tests has risen 210% since the state reopened on May 1st. It could simply mean that Texas has gotten better at testing, not that a second wave is on its way.
More immediately, though, investors are interested in an update from the Federal Reserve, scheduled for 2 p.m. EST later this afternoon. Chairman Jerome Powell will reveal the Fed's first economic and interest rate forecasts since last year. Originally, the update was supposed to be released in March but was ultimately skipped due to the pandemic and ensuing U.S. lockdowns.
"I don't think the Fed is going to back off at all here," Gregory Faranello, head of U.S. rates trading at AmeriVet Securities, said.
"This is a longer-term endeavor. We think rates are going to be on hold here for a long period of time. And, when you look at some of their programs, they're just getting these lending facilities up and running."
Outside of the headlines, bulls have something else to worry about – a widely-followed market index that often predicts corrections right before they occur.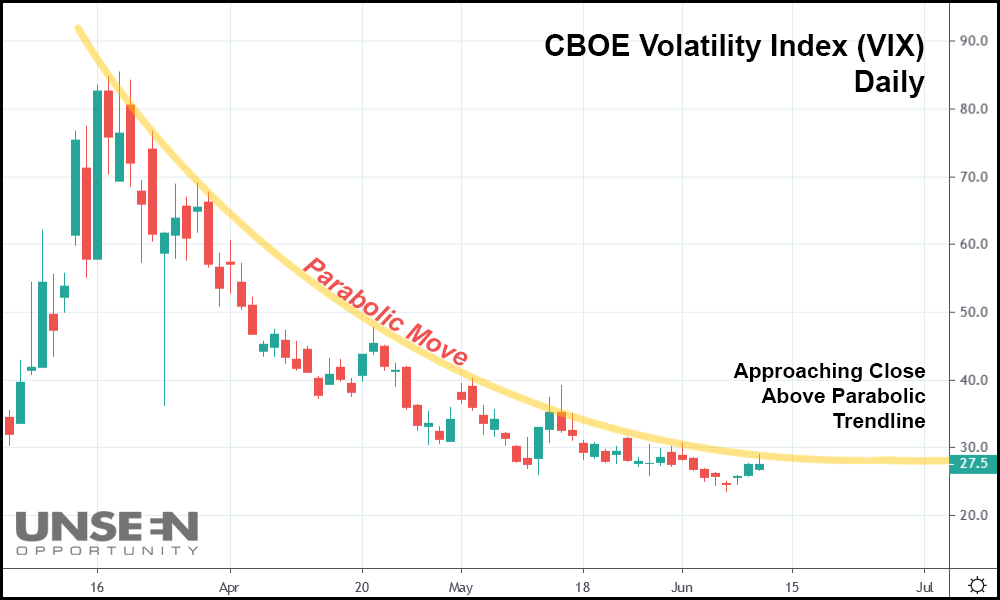 The Chicago Board Options Exchange (CBOE) Volatility Index – or VIX – is a popular measure of stock market volatility based on the S&P 500's index options.
Traders have long said that "when the VIX is high, it's time to buy." Conversely, that "when the VIX is low, it's time to go."
Historically, that advice has proven accurate. The challenge lies in determining what "low" and "high" really are relative to the market. The VIX, despite being very low compared to late March, is actually higher right now than it was for most of 2019.
It could certainly drop further as volatility sinks and share prices continue to surge. Or, the VIX could jump above its parabolic movement (the trendline in yellow) and start soaring as the Covid-19 rally collapses.
Presently, the VIX is extremely close to doing the latter. Should the index close above that trendline, bulls may want to pause the buying frenzy.
Relatively speaking, the VIX is low. Perhaps investors need to follow the old adage and, after a massive market run-up, decide it's finally "time to go."