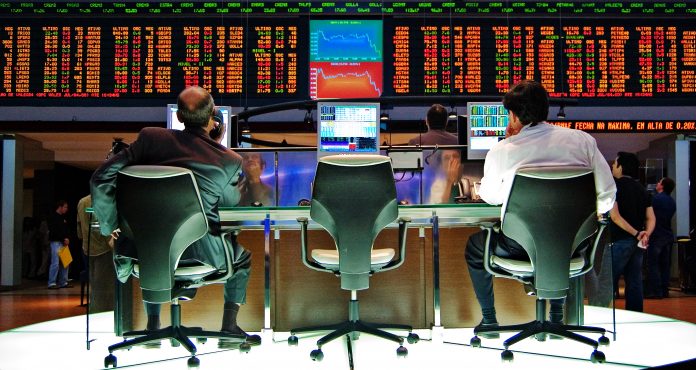 Rumors of Declining Toy Sales Have Been Greatly Exaggerated
Toys-R-Us, even in its later years, was a force to be reckoned with. Just last year it accounted for roughly 15%-20% of all U.S. toy sales, a substantial number in the age of eCommerce dominance.
The success of Toys-R-Us and Babies-R-Us was in large part due to its specialization as a children's retail store. Unfortunately for consumers, that also meant that the loss of Toys-R-Us left them adrift over where to browse and shop for toys.
Major retailers like Target and Walmart were clearly going to pick up the slack, but their lack of specialization in the area left a big question mark over whether toy sales would take a hit in the coming holiday season, or if these stores would stock enough inventory to keep up with demand.
"Usually, it is normal to be out of stock on the hottest toys towards [Christmas], but this year could be worse than usual," Steve Reece, CEO of toy consulting firm Kids Brand Insight, said in an email to CNBC. "Other retailers are less committed to the [toy] category."
This concern over toy sales may have seemed possible a few months ago, but judging from early Black Friday numbers, this doesn't appear to be the case. Not even close.
And the Winners of Retail Toy Sales After the Death of Toys-R-Us Are…
Almost every retailer in the U.S. has been working to capture some of Toys-R-Us' customers. While Target, Walmart, and Amazon are receiving the lion's share of toy sales, others are cashing in as well:
Want more FREE research and analysis on the best "unseen opportunities" in the markets?
Best Buy, the electronics retailer, is almost certain to see a boost in video game and game console sales. But they've also begun selling Mattel Barbie dolls in a bid to snatch additional revenues away from other retailers.
Academy Sports + Outdoors, a sporting goods retailer, also began selling toys on its shelves according to Bill Simon, the former CEO of Walmart.
Macy's, one of the largest clothing retailers, is seeing strong sales this year as well. Although this is attributed to other retail store closings such as Bon-Ton.
And even though several companies have picked up the slack, it would also appear that Target, out of all the big box retailers, has had the most to gain from the closing of Toys-R-Us.
On Friday, Bill Simon, who spent four years as Walmart's CEO, told viewers on CNBC's "Squawk on the Street" that Target was winning the war for Toys-R-Us customers – a sentiment shared by our in-house analysts.
"I thought Target was a winner last night in the toy area," said Simon. "I think the demand for toys continues. I think that there'll be a lot of people that get engaged and in fact saw toys in a lot of the retail Black Friday events in places that you wouldn't have guessed."
Target May Be One of the Biggest Buy Opportunities for What Remains of 2018
Target stock may have dropped post-earnings and seen a brutal November thus far, but strong holiday season numbers and a support level at $67.44 could indicate rising prices until the new year.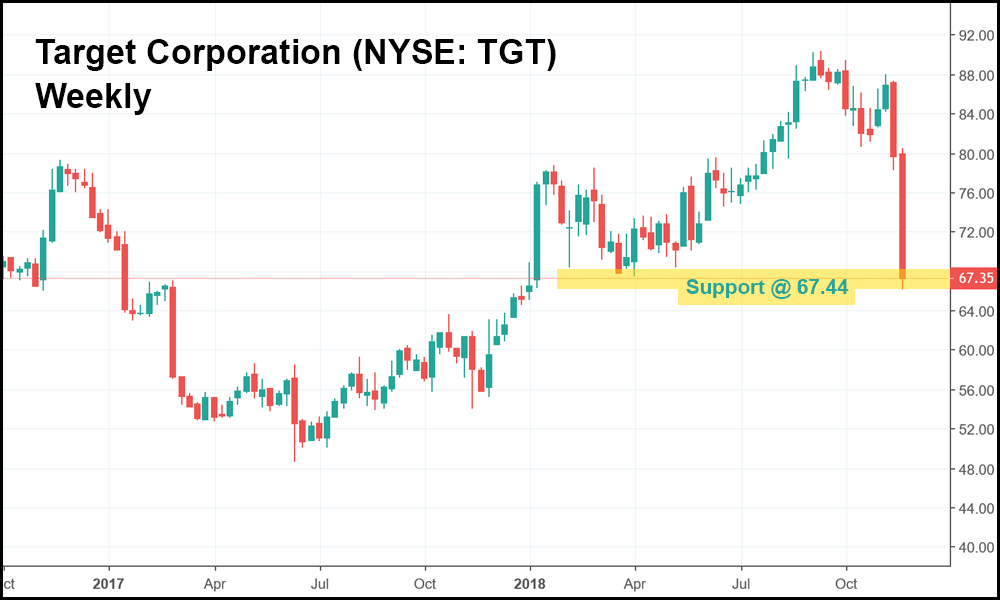 In the weekly candlestick chart above, you can clearly see that shares of Target stock have dropped slightly below the support level at $67.44, set back in April of this year.
If support holds, we could see an invaluable buying opportunity for both short term traders and long-term investors looking to increase their positions in Target. As far as brick-and-mortar retailers go, Target is one of the strongest. And as more retail stores close in the coming years, it will be Target – among other large retailers like Costco and Walmart – that win that business.
"This is the first time in nearly two decades that the physical stores have the upper hand as we head into the holidays," said Ron Johnson, founder and CEO of Enjoy, said on Friday on "Squawk on the Street."
"You see that at Target. … They've turned the stores from what people thought was an anchor into the engine of their omni-channel strategy."