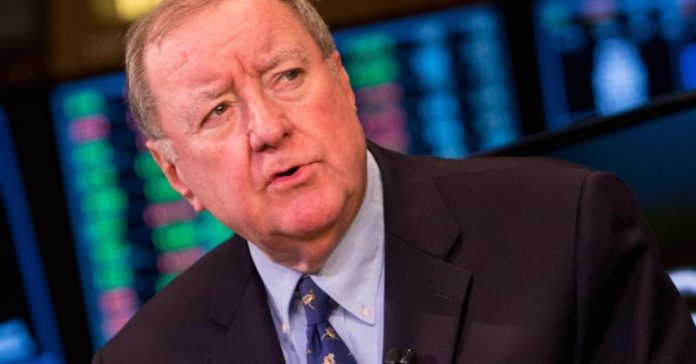 This time last year, UBS Financial Services managing director Art Cashin doled out his predictions for 2019. He believed that "the Fed will not hike ever again in 2019," and "there's an outside chance that they cut before the end of 2019."
Cashin was spot on with both statements.
He also said that "I think [the market] will be very volatile, and — for the first half — probably flat to down as the Fed and others grapple with what they want to do."
And again, Cashin was mostly right – the market was subjected to plenty of volatility. He was wrong about it trading "flat to down," though. Instead, equities screamed upwards for most of the year.
Cashin batted 0.500 on his other predictions, which covered topics ranging from NAFTA to the trade war.
What he was absolutely correct about, however, was President Trump's effect on equities.
"He will be a bit of a problem in the first half and he will bend over backwards to try to be a big help to [stocks] in the second half. Whether that's effective or not, I don't know," Cashin said.
As it turns out, Trump's support was highly effective. Buoyed by strong economic indicators, he played to the needs of bulls, urging the market higher with each tweet.
And this year, sitting down with CNBC correspondents at Bobby Van's Steakhouse in New York City, Cashin made another three predictions for the year ahead.
1. The Fed, even in the face of a strong U.S. economy, will not raise rates.
"I think the Fed is somewhat intimidated by the market," Cashin said. "And the market, if anything, thinks the Fed is ahead of itself on higher rates."
2. The market will continue to rise, extending its winning streak through 2020.
"Eight out of nine times that we've had an up year like we had this year, it's followed by another decent up year. Not quite as strong, but still strong, and so I'll go with history."
3. Stocks will trade higher, but volatility could shake things up in January, March, and July.
"In late January, we'll get to see if there's going to be a Brexit, now that Johnson got a sweeping move in Parliament. And will he, in fact, push through a no-deal Brexit? That could make the markets very volatile and jumpy. The next thing will be the U.S. election […] Number one, in early March, we will get Super Tuesday, and one-third of the U.S. populace will vote," Cashin observed.
"And we'll get to find out where Bloomberg's strategy is. Who looks to be the leader? has anybody locked it up? If not, then it could be a brokered convention, and that date would be in the middle of July when the convention will be."
And though Cashin's predictions might seem like common sense – particularly after the year we've had – 2020 is also likely to play out just like he says it will. Cashin has a track record of getting his annual steakhouse pow-wows mostly right.
In last night's discussion, the Wall Street legend gave investors a glimpse of his "crystal ball." Whether or not he truly divined the future remains to be seen.
But if Cashin's comments from last year are anything to go off of, he'll probably be proven right yet again, even with a presidential election looming in the distance.