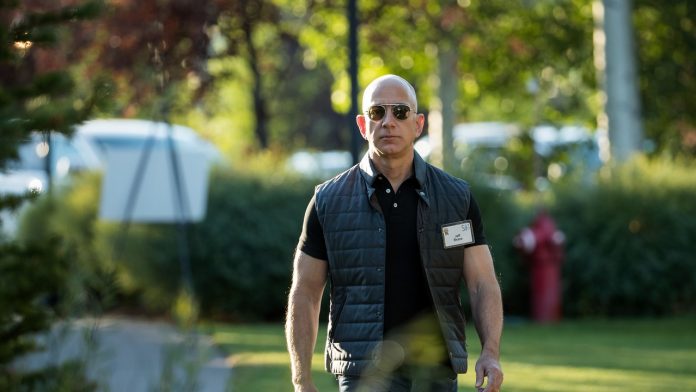 Earlier this morning, Bank of America released a statement that may have revealed Amazon's (NASDAQ: AMZN) next venture – signaling a continuation of CEO Jeff Bezos's aggressive "growth at all costs" strategy.
This time, it looks like the internet mega-retailer has targeted business-to-business (B2B) e-commerce, an often-overlooked industry that's on the rise.
Under the umbrella of Amazon's business wing (Amazon Business), Bezos is looking to leverage his business-to-consumer (B2C) practices that made his online shopping portal such a huge success. Bank of America analyst Justin Post said that Amazon Business "combines positive attributes of Amazon's consumer marketplace," including a wide range of products and services that are "tailored for businesses, government organizations and the education sector."
He added, "B2B has many more hurdles to adoption given the complex (and often offline) procurement processes, but Amazon is driving steady adoption."
And though B2B can often seem like a sprawling, complicated sector that rejects new-entrants, Amazon Business might just have enough horsepower to disrupt the space in a short amount of time. Bank of America estimates that the total addressable market for B2B e-commerce services will rise to $1.4 trillion by 2021 – a number that is double the current estimated $761 billion demand for consumer e-commerce, an industry that Amazon's retail side dominates.
Based on raw numbers alone, Amazon Business has roughly double the market potential in comparison to its online consumer marketplace (Amazon.com).
Last year, it was reported by several research firms that Amazon controlled 49.1 percent of all online retail sales in the United States. If Amazon Business can eventually obtain that same market share, the added sales could possibly double Amazon's current e-commerce revenue – a milestone for the company that would be equal parts terrifying and incredible to behold.
And even if taking half of the B2B market is an unrealistic goal for Amazon Business, Post says they're well on their way to becoming a major player, remarking that Amazon now has "millions of business customers."
Back in 2016, Amazon Business achieved $1 billion in its gross merchandise volume run rate – a statistic that extrapolates estimated gross sales annually. By 2018, just two short years later, they've increased that number tenfold, pushing the run rate up to $10 billion.  By 2023, Bank of America analysts predict that Amazon Business will eventually hit $33.7 billion in gross merchandise volume run rate, with $16.1 billion in revenue to boot.
By 2021, Bank of America also believes that it's "realistic" for Amazon Business to control 10 percent of the B2B market in the United States and 5 percent internationally. If achieved, Amazon would generate anywhere from $125 billion to $245 billion of additional revenues, based on the current predictive models.
And the arrival of Amazon Business as a B2B powerhouse won't just positively impact Amazon share prices, either. Post said that the "recently introduced Business Prime increases the value of the offering with features like faster delivery, account management, spend analytics, and integration with existing procurement applications."
Simply put, Amazon will introduce an absurd level of value to the B2B marketplace, and in doing so could make millions of customers operate more efficiently, boosting bottom-lines and increasing productivity for businesses all over the world.
With enough TLC, Amazon Business might just become Bezos's most successful venture yet – something that could benefit the economies of the world greatly, at the cost of feeding a growing e-commerce monopoly.
In the end, though, it would be for the benefit of consumers via trickle-down effect, and as long as the FTC doesn't see Bezos practicing any "anti-consumer" practices, Amazon will continue to gobble up industry after industry en route to world domination.