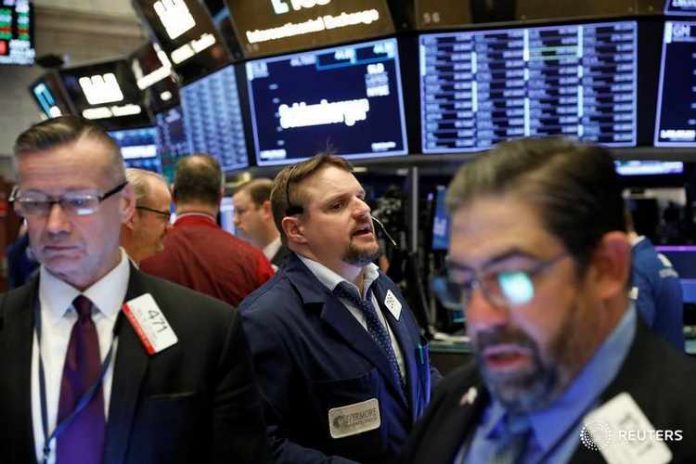 Stocks stalled again this morning with another economic report due out at the end of the week.
Sound familiar?
It's been this way for months, now. The market remains stuck near its recent highs as investors wait for buy (or sell) signals to emerge.
This time around, it's the June jobs report that has traders sitting on their hands. The delta-variant of Covid-19 spooked European stocks, too, which may be causing some nervousness among US equities.
And until the payrolls data is released this Friday, the market could easily stay "gridlocked."
But that may not necessarily be true for specific sectors as investors attempt to rebalance their portfolios. Today, tech's up big opposite sinking Dow components. Financials, in particular, are getting whacked after enjoying a sharp rise in response to the Fed's latest bank stress test.
"I think if you look in financials, which are a really good example, I think that became a crowded trade. I think we've had a room clearing out there, so to speak," said Jeff Mills, chief investment officer at Bryn Mawr Trust.
Mills continued, adding that "on the flip side, you look at the Amazons of the world, and a lot of those charts have gone sideways for the better part of six months."
It's true that the majority of FAANG stocks aren't really moving like bulls would've hoped. Google-parent Alphabet (NASDAQ: GOOG) and Facebook (NASDAQ: FB) have done well while Amazon (NASDAQ: AMZN), Apple (NASDAQ: AAPL), and Netflix (NASDAQ: NFLX) have simply frustrated shareholders.
Making matters somewhat more complicated is Biden's proposed infrastructure bill. A bipartisan group of lawmakers claimed they had reached a deal last Thursday worth $559 billion.
That had John Stoltzfus, chief investment strategist at Oppenheimer Asset Management, feeling optimistic about America's economic future.
"The bipartisan infrastructure agreement hammered out in Washington DC last week appears to stand some chance of becoming a reality," Stoltzfus said.
"This program could serve the country near and longer-term in generating job creation, boost economic growth, underpin corporate revenue and earnings growth and increase the ability of the US to compete with other nations in the still relatively new but hypercompetitive 21st Century."
Goldman strategists, on the other hand, provided an immediate reality check after the deal was announced.
"The bipartisan deal omits items that we believe every Democrat will want to pass, like an extension of the expanded child tax credit, so we believe the odds of a reconciliation bill passing are still fairly high," wrote Goldman's chief political economist Alec Phillips, before concluding:
"It is not clear how this deal would be paid for, or whether it would be."
In other words, Democrats are unlikely to pass the negotiated bill without an expanded child tax credit extension. Instead, they'll favor a reconciliation package (which requires only 51 votes instead of 60 in the Senate) over a stripped-down, negotiated one. This would likely push any infrastructure spending to later in the year.
The bigger issue, however, is where the $559 billion will come from. Negotiators of the bill have said that better enforcement of existing tax laws might be a good source. But in reality, stepped-up tax enforcement would only pay for a small portion of the bill.
Others suggested drawing from Covid-relief funds, which may draw criticism from members of Congress who insist that the cash is earmarked for Covid-related costs.
So, as has been the case in May and June, the market continues to look completely "clogged up" as the end of the month approaches. Will bulls be able to force a breakout in July?
They certainly could.
They weren't able to do it in June, though, despite a relatively solid May jobs print. The real danger now is if June's numbers come in worse than expected. Two weeks ago, a slightly hawkish Fed spurred on a quick sell-off following the June FOMC meeting.
A bad jobs report could have a similar effect, if not worse, as scores of bulls remain long with "one foot out the door," ready to sell at a moment's notice.