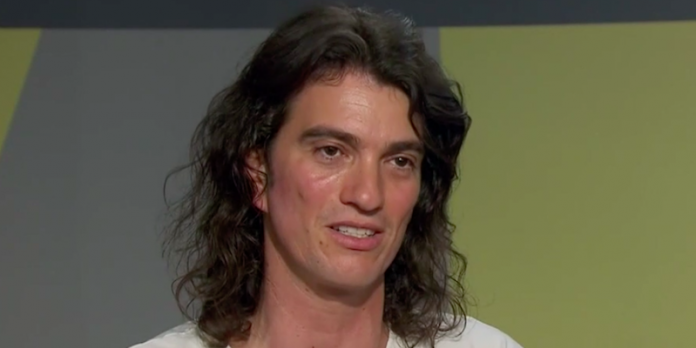 WeWork, the workspace real estate company infamous for its upcoming IPO, has become even more controversial after a massive pre-IPO devaluation hit the airwaves this morning.
"Sources" close to the company told David Faber, a Squawk on the Street co-anchor, that WeWork's IPO valuation could fall below $15 billion, most likely landing in the $10-$12 billion range. At its highest point, the company's private valuation was scraping $47 billion, making the new rumored value (at best) a whole $32 billion less.
It's a huge blow to WeWork and CEO Adam Neumann, a man that many investors (and WeWork itself) see as the company's biggest risk factor. In the WeWork IPO filing, the word "Adam" appears 169 times. He's a certified celebrity in the company's offices, surpassing even Elon Musk and his god-like status at Tesla.
In many ways, investors who buy-in to the WeWork IPO are buying equity in Adam himself. He's the face of the company, but also most of the talent. WeWork's big bets – like a $32 million investment in Laird Superfood, owned by a surfer that Adam adores – have mostly paid off. In many ways, his ability to identify value has built the company.
And it's what gives WeWork nearly unlimited upside in the eyes of kool-aid drinking investors.
But it's also something to be very concerned about, regardless of whether you plan on participating in the WeWork IPO or not – something that Mad Money's Jim Cramer agrees with, even in the event of a devaluation.
"Stop the WeWork deal," said Cramer this morning on Squawk Box.
"We don't want that deal. I just wish they would go away."
Want more FREE research and analysis on the best "unseen opportunities" in the markets?
But Cramer's not worried about the folks who invest in WeWork. Instead, he says that the IPO could cause issues across the general market.
"I don't want WeWork at any price," he said.
"There are certain deals that can come, and they can just really take the air out of any market."
It's certainly a valid point, especially with the indexes trading at or near all-time highs. But Cramer wasn't finished.
"Why can't they just say, 'Hey, we're awful, and we're going to wait until we're good again,'" he added.
"We don't want to give them money. They're just going to screw up the market."
And though Cramer's commentary may sound overly harsh, he's likely telling the truth. Even WeWork's biggest investor, SoftBank, reportedly wants the company to temporarily hold off on the IPO. SoftBank invested in WeWork back in January, when it was still valued at $47 billion.
If WeWork shares end up with a valuation of $15 billion, SoftBank would be forced to eat significant losses.
Which, to me, proves just how dangerous IPO investing can be. Unless you have intimate knowledge of a company that's going public, participating in its IPO is virtually a different form of gambling.
At the very least, waiting until the stock debuts before buying-in might make more sense.
Amazon (NASDAQ: AMZN), for example, IPO'd on May 15, 1997 for $18 per share. Investors who participated are obviously very happy about their decision.
But when AMZN hit the market on May 16th, just one day later, it opened trading at $1.97. Amazon IPO participants lost 89% of their position in a single day.
In fact, AMZN shares didn't reach $18 until July 1998, a little over one year later.
So, even if WeWork ends up becoming the next Amazon (it probably won't), odds are you're better served by watching and waiting for the IPO to happen.
Moonshot-seeking investors don't want to hear that, though, and the whole fiasco could end up sucker-punching the market at a bad time.
Even with all signs pointing "up".