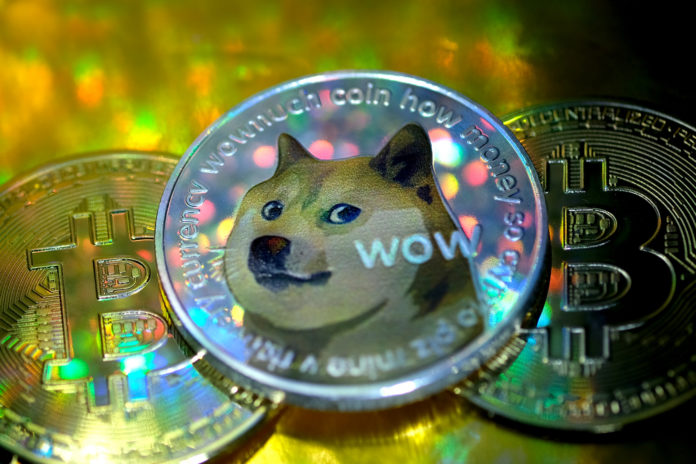 Stocks are wobbling, but will they fall down? That's what traders are asking themselves this morning while the market struggles to stay above water. Both the Dow and S&P are flat on the day. The tech-heavy Nasdaq Composite, meanwhile, is sinking.
Big Tech leaders, like Tesla (NASDAQ: TSLA), have endured the worst of the selling. Analysts think CEO Elon Musk may be to blame for TSLA's plunge after he made another crypto-related tweet.
"Bought some Dogecoin for lil X, so he can be a toddler hodler," he said.
With his tweet, Musk drove speculators back to Dogecoin (DOGE), a controversial cryptocurrency that doesn't offer much outside of an entertaining name. It was originally created in 2013 by software engineers to be a faster (and more fun) alternative to Bitcoin.
More recently, celebrities have pushed DOGE to a new all-time high by mentioning it on social media. Musk got in on the action as well, tweeting about the altcoin before it surged over 100% in just a matter of days.
"Unfortunately, a lot of retail punters are going to lose money on Dogecoin in the long term because there's really not much there in terms of interesting technology," explained Nic Carter, co-founder of Coin Metrics.
"The only thing it can really do is be zombified and stick around and be an empty shell for people's expectations and for their entertainment."
Carter then went on to say that Musk's fascination with Dogecoin is "disconcerting" as it's mostly a "vehicle for speculation."
Galaxy Digital CEO and crypto bull Mike Novogratz piled-on, slamming Musk for endangering amateur traders.
"Dogecoin reminds me a lot of GameStop," Novogratz said.
"It's a meme. It was funny for a little bit but now it's at a market valuation where people are going to lose lots of money in DOGE."
He continued, drawing comparisons between Dogecoin and several other top digital currencies:
"Bitcoin has a real purpose, Ethereum has a real purpose, lots of the stablecoins have a real purpose. Doge is kind of a meme, kind of a joke."
These days, Musk is tweeting on eggshells. The mainstream financial media eagerly jumps down his throat every time he mentions cryptocurrencies on Twitter.
Now, however, he may have also drawn the SEC's attention according to an ex-agency official.
"It would not be surprising – given the focus on the chief executive's tweets, Bitcoin pricing and recent dramatic market moves – for the SEC to ask questions about the facts and circumstances here," remarked Doug Davison, current partner at Linklaters and former branch chief of the SEC's enforcement division.
It has not yet been disclosed when Tesla made its Bitcoin purchase. If it happened after Musk repeatedly tweeted about Bitcoin, he could find himself – and Tesla – in hot water.
Whether an SEC investigation is justified or not won't ultimately matter to Bitcoin and TSLA holders. All they'll want is a no-penalty outcome in the event of a regulatory probe.
And so, at the top of the TSLA and Bitcoin rallies, turbulence could soon be arriving. It won't be long-lived, mind you, but it'll be uncomfortable. And you can be sure that Musk will cry foul if the SEC decides to take a closer look.
In the short-term, though, speculators could end up shedding the most tears (and capital) as regulators descend upon Musk.
Provided, of course, that they find any wrongdoing in the first place.