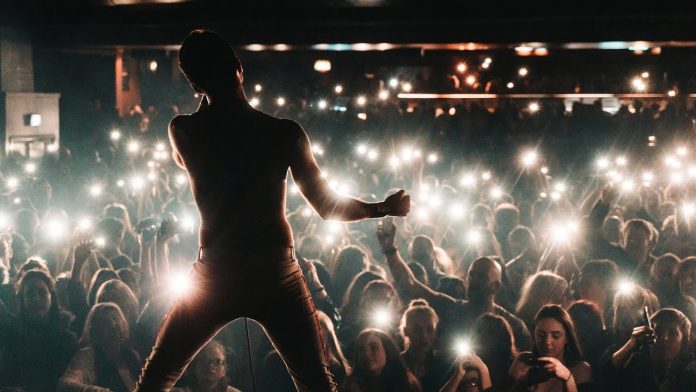 Thanks to an observation from President Trump this morning, oil's making a comeback.
The market is, too.
In fact, stocks might just need rising oil prices to spur on a rally. The U.S. economy can't really function with crude oil at such a low level. American shale companies, in particular, are in trouble.
But if oil's going up, the chances of a recovery are as well.
And it's all thanks to Trump's pre-market interview with CNBC today, in which he said that Saudi Arabia and Russia are going to cut oil production by roughly 10 million – 15 million barrels.
In response, oil prices surged. It's been over a month since oil saw any significant positive movement.
Now, an "oil run" could be on its way.
By the time the market closed, crude oil finished out the session at a 17.33% gain. The Dow (+2.19%), S&P (+2.31%), and Nasdaq Composite (+1.74%) all jumped upwards as well.
Want more FREE research and analysis on the best "unseen opportunities" in the markets?
Whether those gains stick – in either the general market or oil – is a different story.
"The [S&P 500] wasted no time proving that a new month and quarter were not going to alter the volatility that we grew so accustomed to recently," Frank Cappelleri, executive director at Instinet, said in response to today's upswing.
Some analysts, like New York Life Investments' multi-asset portfolio strategist Lauren Goodwin, believe it might be a bit too early to declare sentiment officially "shifted."
"While we have not seen announcements yet, dividend cuts could be on the horizon for U.S. companies," she said.
"With a heavy hit to revenues, businesses may opt to prioritize employees and lower borrowing loads over paying dividends. This could present a risk for equities. Announcements of temporary (1-2 quarters) of dividend cuts could be priced in, but longer cuts would likely contribute to negative sentiment."
If the market doesn't continue climbing, certain stocks stand to get absolutely scorched in a retracement.
Particularly those that didn't join in on today's market-wide lift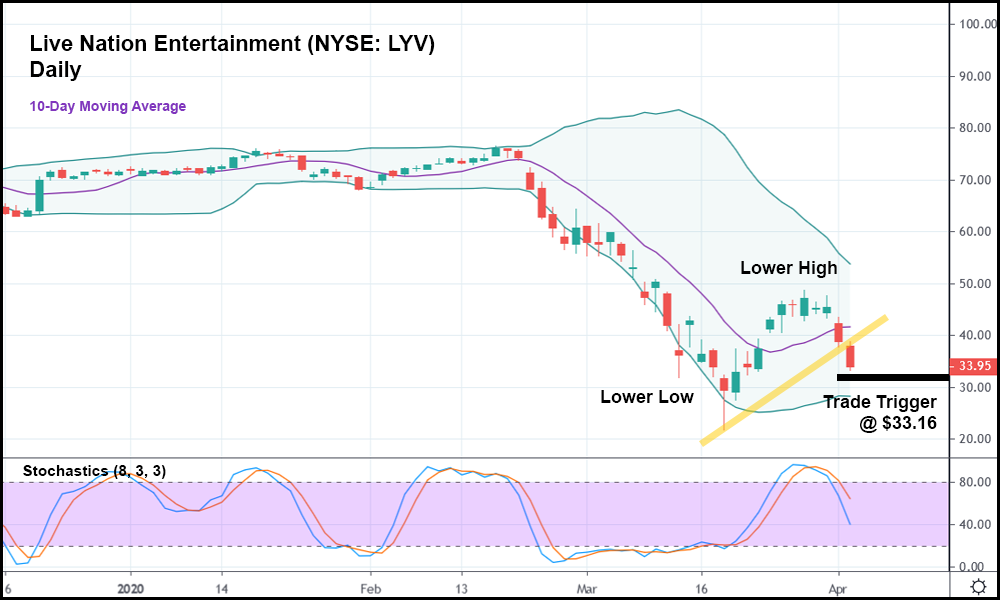 While stocks were rising, Live Nation Entertainment (NYSE: LYV) was plunging. It dropped 12.68%, breakout out below its minor bullish trend (represented with the trendline in yellow), falling well below the 10-day moving average.
A lower high and lower low loom closely in the rearview mirror, too, suggesting that LYV could keep falling.
For those reasons, if LYV drops below today's low, it might make sense to go short on the stock with a trade trigger of $33.16. From there, LYV would likely encounter its mid-March low. A fall past that low could mean disaster for LYV shareholders, and, conversely, a massive gain for short-term bears who were willing to take a shot on a sinking stock.