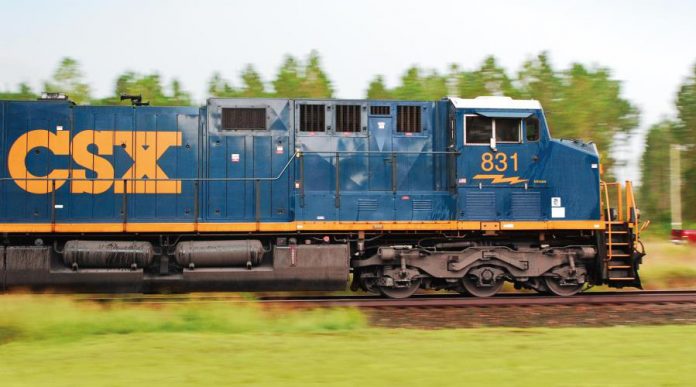 It's official:
We have a deal.
Overnight, the Senate approved a $2 trillion coronavirus stimulus relief package. The market soared yesterday in anticipation of the bill.
Now, investors don't quite know what to make of it.
The Dow, S&P, and Nasdaq Composite are all trading relatively flat as of midday.
But that hasn't stopped certain stocks from surging in the meantime. Nike (NYSE: NKE) and Boeing (NYSE: BA) – two companies currently lifting the Dow – are up 10% and 17.50%, respectively. The consumer defensive sector is seeing double-digit gainers as well, like faux-beef manufacturer Beyond Meat (NASDAQ: BYND), which has already risen over 11% today.
The rest of the market, however, is exhibiting a much more muted response to the now-authorized relief fund.
Yousef Abbasi, director of U.S. institutional equities at INTL FCStone, sees it as a sign of things to come.
Want more FREE research and analysis on the best "unseen opportunities" in the markets?
"The failure to get a follow-through is a reality check," he said in response to this morning's tepid gains.
"People have to contend with the idea that the longer that lasts, the more people potentially are losing their job. So to see a sustainable rally at this point is going to be very difficult."
Former Fed Chairman Ben Bernanke views the downturn differently. In an interview with CNBC, he celebrated current Fed Chairman Jerome Powell's response to the crisis.
"If there's not too much damage done to the workforce, to the businesses during the shutdown period, however long that may be, then we could see a fairly quick rebound," Bernanke said.
And like with most "rebounds," some industries are bound to start recovering before others. One of which has largely been overlooked in the COVID-19 crash:
Railroads.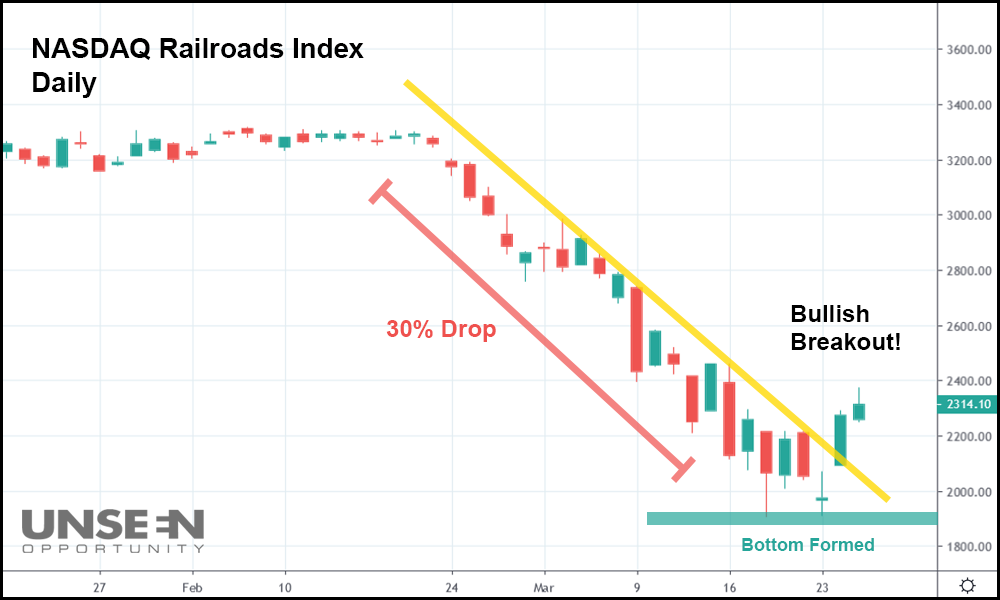 Yes, believe it or not, railroad stocks (per the NASDAQ Railroads Index) are now gaining a head of steam following the Senate's stimulus bill. They catapulted higher yesterday along with the rest of the market. Today, they continue their climb.
In the daily candlestick chart above (in which each bar represents one trading day), you can see that railroad stocks have already achieved two significant "rally milestones." The first of which being that the industry formed a solid bottom two sessions ago. The second, that railroad stocks broke out past their coronavirus-driven downtrend (represented with the yellow trendline).
And though this group of stocks didn't get wounded as much as others in the crash, that doesn't change the fact that these companies are showing signs of a significant trend reversal.
Canadian Pacific Railway (NYSE: CP), CSX (NASDAQ: CSX), and Union Pacific (NYSE: UNP) – all major industry players – are likely to rise with their peers.
Value-seeking traders might want to take a shot on these stocks in the coming days as a result.
Investors should be careful to not wait too long, though. Because once these companies "leave the station," they're unlikely to let anyone on board at these prices ever again.
Especially if a general market recovery – something many analysts are now anticipating – is truly in the works.