A $2 trillion stimulus package is coming. The Senate struck a deal with the White House last night.
Now, it's up to the House to approve it – something they'll vote on tomorrow.
Investors sent stocks higher again in anticipation. Yesterday, the market soared.
Today, it posted its first back-to-back gain since February.
The Dow climbed 2% by the session's close, while the S&P rose 1.1%. The Nasdaq Composite fell 0.5%, but overall, it was a positive day for investors.
What comes next could even be the start of a market recovery.
Provided, of course, that Bernie Sanders doesn't get in the way.
In the final minutes of trading today, stocks dropped after Sanders tweeted that he would "put a hold on this bill until stronger conditions are imposed on the $500 billion corporate welfare fund" contained within. Of course, Sanders has no authority to do so on his own. He'd have to summon the support of his fellow House Democrats to vote "no."
Want more FREE research and analysis on the best "unseen opportunities" in the markets?
Either way, the market's reaction to Bernie's tweet confirmed just how much the stimulus bill, and whether or not it passes, is now directing sentiment.
"The stimulus measures will continue acting as equity tailwinds as they seep into corners of the credit market presently locked," wrote Adam Crisafulli, founder of Vital Knowledge, in a note today.
"[The market] is clearly moving much faster than underlying fundamentals and just as sharp declines on prior sessions exaggerated economic conditions, the rebounds will too."
The Dow was up as much as 6.1% before Sanders dashed the spirits of hopeful bulls.
And while that may have investors souring on the prospects of a market-wide rally, traders are viewing the late collapse as an opportunity.
Because tomorrow, if the stimulus bill passes, stocks could make back those lost gains in a hurry. Certain stocks could soar as a result.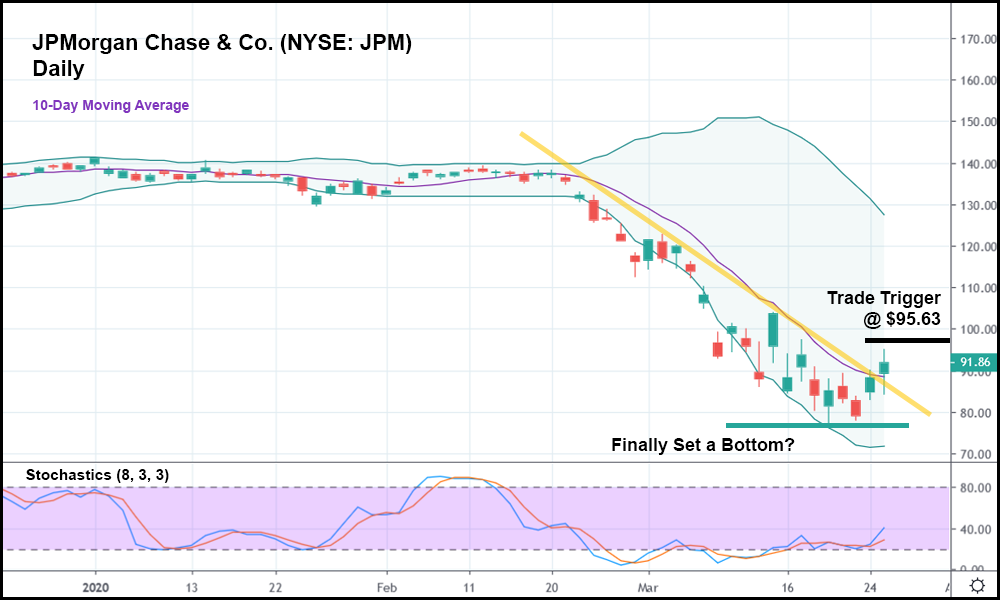 In the daily candlestick chart above, you can see that JPMorgan Chase & Co. (NYSE: JPM) has attempted to rally several times now. The stock has posted a handful of green candlesticks and large daily gains, only to drop in the sessions that followed.
Now, however, after bottoming last week, JPM broke out above its minor bearish trend (represented with the yellow trendline).
If JPM rises above its daily high, it might make sense to go long on the stock with a trade trigger of $95.63. From there, Congress and coronavirus willing, JPM could be in for a whipsaw rally to its January lows.
Best of all, the stochastics indicator suggests that JPM is nowhere near overbought. Plenty of other stocks already "jumped" today.
JPM was not one of them, meaning that there could be much more in store for the banking giant in the coming weeks.