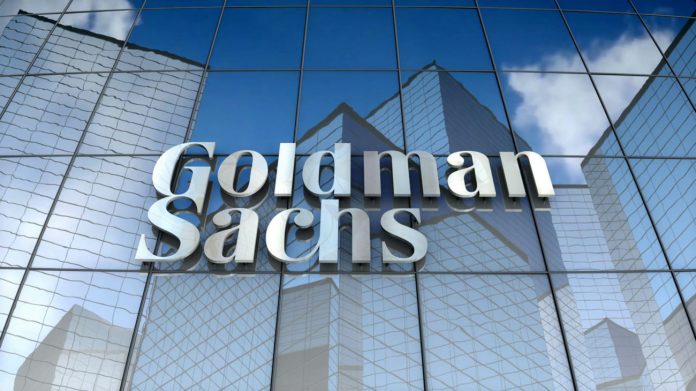 American jobless claims topped 3.28 million today, hitting a new all-time high. The record-setting peaks of the past – 655,000 in March 2009 and 695,000 in October 1982 – have been left in the dust.
That's the main takeaway from the Labor Department's report this morning in which the current unemployment numbers were revealed.
In layman's terms, the U.S. is out of work. A stimulus bill needs to happen to "bridge the gap" between a pre- and post-outbreak economy.
However, despite the alarming statistic, stocks are rising once again. The market doesn't seem to care about jobless claims during a pandemic.
And it will likely continue not caring if the House votes "yes" on the coronavirus relief fund today.
If Democrats find something worth objecting to, though, investors could be in for another rapid decline.
Potentially to the market's Monday low.
Meanwhile, Treasury Secretary Steven Mnuchin is doing everything he can to calm investors. In a pre-market interview on CNBC, Mnuchin doubled down on Trump's outbreak relief checks that are expected to provide taxpayers with an extra $1,200 each.
"Most of these will be direct deposit," he said.
"It will be within three weeks."
When asked about the unemployment figures, Mnuchin correctly shrugged them off.
"I just think these numbers right now are not relevant," he remarked.
"Whether they're bigger or smaller in the short term […] the good thing about this bill is, the president is protecting these people."
Mnuchin echoes the sentiment of most experts; that the current downturn is in no way indicative of a "problem" with the economy. In 2008, the system was broken.
This time around, it's a shock pandemic sweeping the globe. More importantly, the economic slump isn't a warning sign that conditions will deteriorate further once COVID-19 is defeated.
For American banks, that's a major relief. They finally have a national crisis that's not their fault.
And for traders, the recent crash could represent an opportunity to profit off a massive banking upswing.
Especially now that financial stocks are on the rise.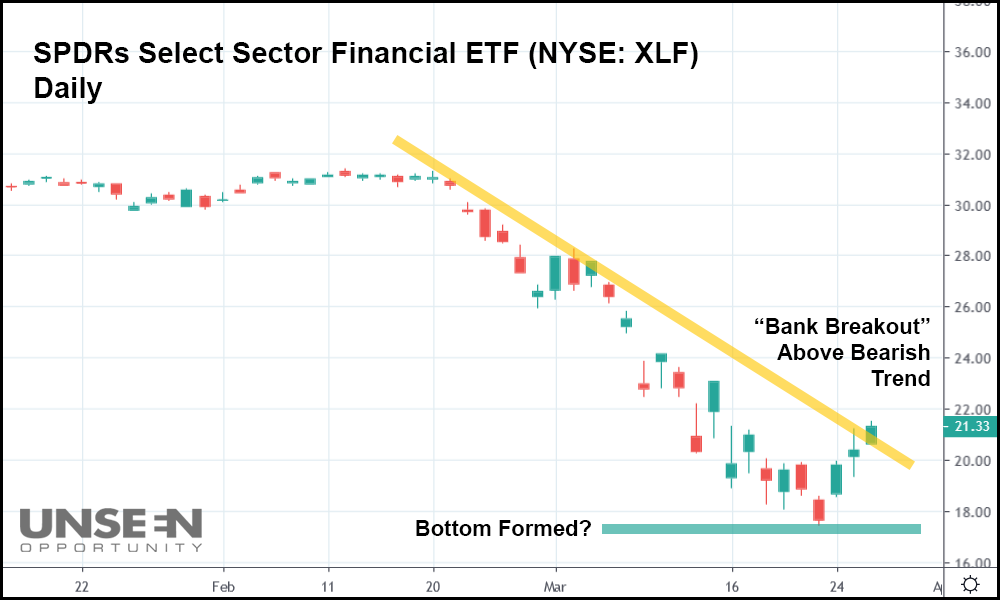 In the daily candlestick chart above (in which each bar represents a single trading day), the SPDRs Select Sector Financial ETF (NYSE: XLF) soared after setting a bottom on Monday.
The ETF, which tracks the top bank stocks, just broke out past its bearish trend (represented with the yellow trendline) today.
Another move tomorrow could confirm that a banking rally – potentially even a market-wide rally – is on its way.
And if a bullish reversal is truly in the cards, the sector thankfully contains 5 great candidates to buy during the recovery. All of which stand to profit handsomely on a stimulus bill approval moving forward.
Those banks are:
Bank of America (NYSE: BAC)
JPMorgan (NYSE: JPM)
Goldman Sachs (NYSE: GS)
Wells Fargo (NYSE: WFC)
Citigroup (NYSE: C)
And if the House votes "no" on the Senate's coronavirus relief plan, the sector could easily test that Monday bottom over the next few sessions.
Longer-term, however, banks should still recover nicely either way.
Remember, this isn't 2008. The banks aren't the "bad guys" here; a mysterious disease from the Far East is.
Don't be surprised to see the sector surge once coronavirus cases begin to level off.
All while checks from President Trump (hopefully) prod the stunned U.S. economy into another period of growth.