The market surged again today for its third straight session in a row. The Dow, which hasn't risen this much in a 3-day span since 1931, gained roughly 6.4% while the S&P climbed 6.2%. The Nasdaq Composite jumped 5.6% as well, driven upward by FAANG stocks (Facebook, Amazon, Apple, Netflix and Google-parent company Alphabet), all of which rose more than 4%.
In the Dow, Boeing (NYSE: BA), Chevron (NYSE: CVX), and Walgreens (NYSE: WGA) did the heavy lifting. Each stock erupted for a gain of over 10% on what some investors thought would be a tough day for stocks.
According to a Labor Bureau report this morning, U.S. jobless claims spiked to 3.28 million last week. The prior record highs of 655,000 in March 2009 and 695,000 in October 1982 pale in comparison.
But investors didn't let that spoil the fun.
Nor should they; the current unemployment statistics are a symptom of a shock pandemic, not a systematic problem akin to the 2008 financial crisis.
Analysts know it, too, and are preparing for the economic reboot that's inevitably coming.
"We all know the pain being felt and the economic damage being caused by this damn virus but because we are so close to getting past the worst of the spread, we need to start getting creative about what the restart will look like," Peter Boockvar, chief investment officer at Bleakley Advisory Group, wrote in a note.
What better way to "restart" than with a $2 trillion stimulus package? The Senate's stimulus bill is now in the hands of the House.
Stocks will likely rise further if Democrats give it the "go ahead." In the meantime, Treasury Secretary Steven Mnuchin has been reiterating the government's shorter-term plans.
"We're determined to get money in people's pockets immediately," he said this morning.
And while investors wait for their "government cheese," major opportunities continue to pop up all over the market. Nearly every sector saw a lift today in a continuation of the bullish sentiment shift.
One of the FAANG stocks in particular – Apple Inc. (NASDAQ: AAPL) – looks ready to skyrocket in the event that the general market keeps rising.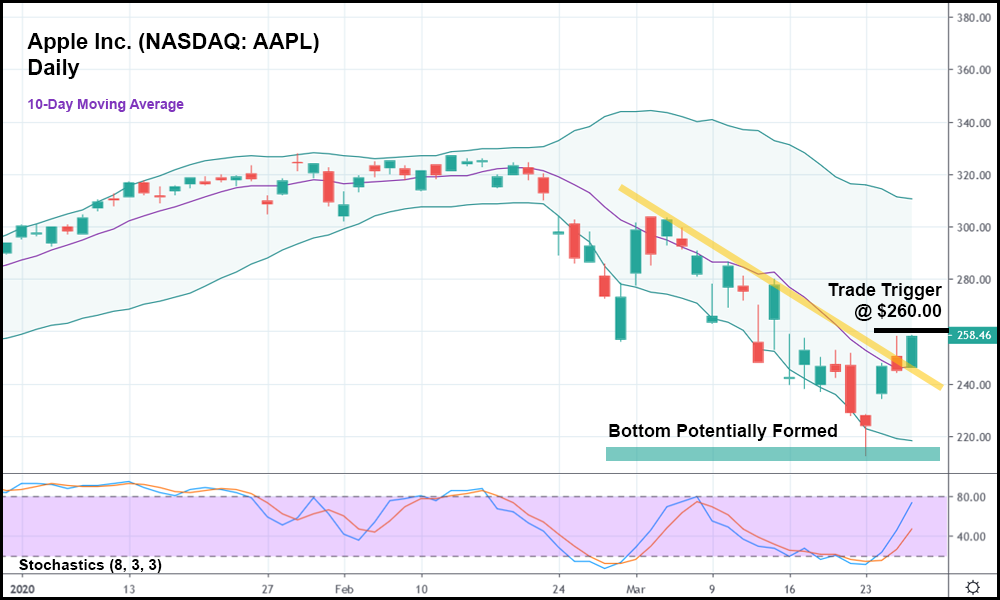 In the daily candlestick chart above, you can see that AAPL has attempted to rally several times now. However, each time it bursts upward, the coronavirus dragged it (along with the rest of the market) right back down. Volatility has run this tech giant ragged, but after today's lift, it's finally broken out.
AAPL closed above its minor bearish trend (represented with the yellow trendline). If it rises above today's high in tomorrow's session, it might make sense to take the stock long with a trade trigger of $260.00.
The stochastics suggest that it's borderline overbought, however, the market is arguably due for a massive rally. As a leading blue-chip, AAPL would likely join in on the fun.
Even if that means spending some time in the "overbought" portion of the stochastics indicator (>80).
Best of all, the stock's completely cleared the 10-day moving average. The last time AAPL did that following a major downturn was back in early 2019, resulting in a 38% gain that took company shares back near their all-time highs.