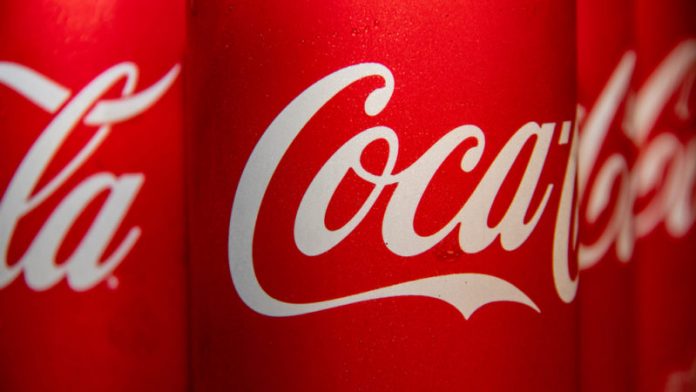 Ding-dong, the rally's dead.
That's the attitude this morning as investors weigh the consequences of another potential U.S./China trade war escalation.
"Lost in the sauce" during the COVID-19 pandemic has been the friction between Washington and Beijing. Prior to the coronavirus, President Trump was pursuing a tariff ceasefire ahead of his re-election campaign.
Now, those plans are gone.
"We signed a trade deal where they're supposed to buy, and they've been buying a lot, actually. But that now becomes secondary to what took place with the virus," POTUS told reporters.
"The virus situation is just not acceptable."
Rumors out of the Far East suggest that COVID-19 may have accidentally escaped a Chinese lab and that Chinese officials withheld information about the virus in an attempt to hoard personal protection equipment.
If that's true, then China likely made the pandemic far worse – a crime that Trump said he could punish with more tariffs.
"Well, I can do it differently. I can do the same thing, but even for more money, just by putting on tariffs. So, I don't have to do that," the president remarked when asked if the U.S. would consider not paying its debt obligations to China as a method of COVID-19 retribution.
Warren Buffett, the "Oracle of Omaha," also cast a shadow over the market this weekend when he announced that his company, Berkshire Hathaway, sold all of its airline holdings.
"The world has changed for the airlines. And I don't know how it's changed, and I hope it corrects itself in a reasonably prompt way," Buffett said at the Berkshire Hathaway annual shareholding meeting.
"I don't know if Americans have now changed their habits or will change their habits because of the extended period."
Airline stocks got crushed as a result. Many of them opened at least 10% lower this morning.
And though long-term sentiment may remain bullish as states eye economic re-openings across the country, short-term attitudes seem staunchly bearish.
Outside of the airlines, consumer staples – companies like Walmart, Procter & Gamble, and Coca-Cola – have been heavily wounded since peaking in April. Now, the sector is facing a crossroads as the post-coronavirus rally eyes a rapid May correction.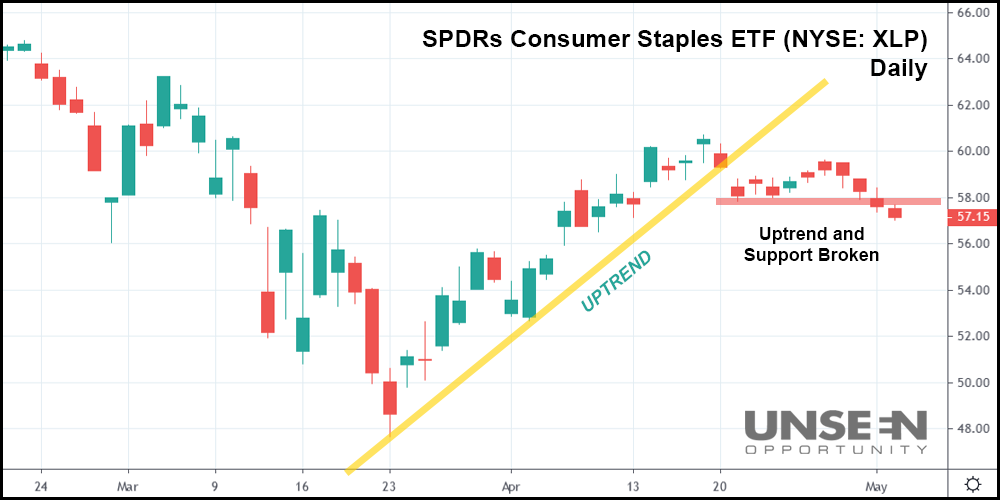 The SPDRs Consumer Staples ETF (NYSE: XLP), which tracks the price action of the consumer staples sector, fell below its bullish trend (yellow trendline) back on April 21st.
Since then, the ETF (and sector) attempted to regain lost ground, but ultimately went even lower last Friday. Today, XLP has dropped beneath a price level of key support set back on the 21st. Now the ETF has broken through both its uptrend and support, suggesting an even further collapse could be possible for consumer staples – a sector that was a major overachiever in the recent rally.
That's not to say XLP will test its March 23rd low again any time soon, though. The sector seems more likely to drop again these next few weeks, retracing roughly 50% of its gains in April.
For most traders, that could mean it might not be a sector worth shorting.
But mark my words:
Once states start re-opening on a larger scale, a massive consumer staples buying opportunity should follow. These companies need consumers to consume if they're going to recover.
And with a COVID-19 treatment – Gilead Science's remdesivir – en route to hospitals this week, that could potentially happen sooner rather than later.