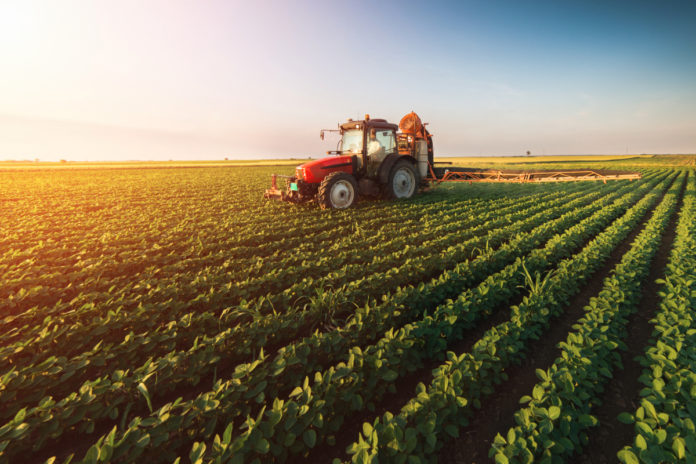 Stocks fell today as coronavirus relief negotiations continued in Washington. Investors were hopeful in the morning for a quick conclusion, but sentiment took a decidedly bearish turn when Senate Majority Leader Mitch McConnell announced that Republicans aren't willing to negotiate a bill without liability protections – something Democrats don't want to budge on, either.
The result is gridlock in Congress and a longer gap in unemployment protection for out-of-work Americans. Companies that reported better-than-expected Q2 earnings thus far have pointed to a strong consumer for their success.
Without stimulus from the government, though, consumers will get a whole lot weaker over the next few weeks.
That's bad news for companies like McDonald's (NYSE: MCD), which reported a major earnings "miss" this morning before the market opened. 3M (NYSE: MMM) also fell short of analyst estimates.
Is it a sign of things to come? 170 companies are set to report this week, and if the Q2 results don't impress, stocks could be headed lower in Q3 and Q4.
"The CQ2 reports in the last 12-18 hours, while numerous, don't really shift the macro narrative a whole lot (they largely confirm what most people already suspect)," noted Vital Knowledge founder Adam Crisafulli.
The big challenge companies face this earnings season isn't beating analyst expectations, but justifying share prices. Netflix (NASDAQ: NFLX), for example, surpassed estimates and even had somewhat rosy earnings guidance on Friday, July 17th, when it reported earnings.
The stock promptly dropped as shareholders decided the "beat" wasn't good enough. It's gotten so bad that analysts are comparing the current market to the dot com bubble of 1999.
"Are stock investors delusional?" asked Ed Yardeni, president of Yardeni Research.
"Not yet, but that could be an apt characterization of stock prices continue to rise faster than forward earnings."
And so, with stocks pitching downward once again, bears are loading up on short trades in key companies.
Companies like Corteva (NYSE: CTVA), an agricultural chemical provider whose stock is "on the ropes."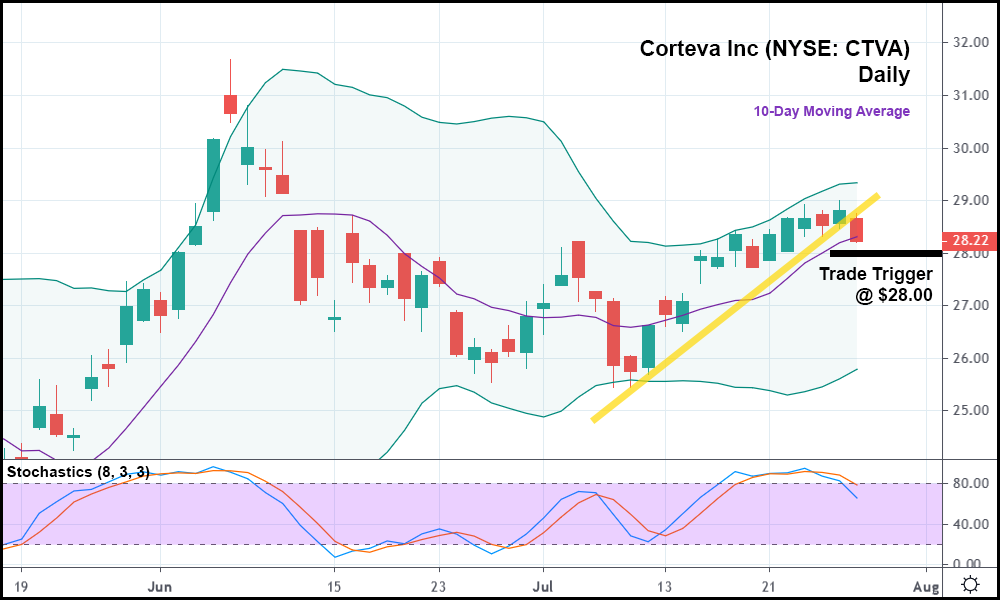 CTVA followed suit with the rest of the market and peaked in early June. It's sold-off and mostly chopped sideways since.
Now, though, after almost hitting the upper Bollinger Band (BB), CTVA's coming back down to test its early July lows.
The stock even closed below the 10-day moving average and its minor bullish trend (represented by the yellow trendline) today, signaling a larger move down.
If CTVA trades below today's low, it might make sense to take the stock short with a trade trigger of $28.00, even if the general market doesn't drop (or rise) in a major way to finish out the week.