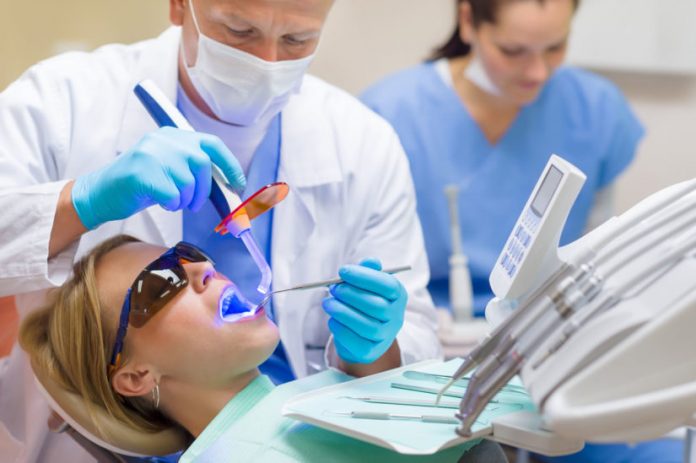 Stocks finished out the day somewhat "flat" after rising earlier in the morning. The major indexes screamed higher at the open, only to fall by the afternoon.
Uncertainty is back, it seems, just one trading session removed from yesterday's impressive gain. The coronavirus lingers as an ever-present threat.
That doesn't mean investors are ready to throw in the towel, though.  Yes, stocks pared back their gains this afternoon, but they also managed to avoid another sell-off. The market has spent the last week and a half switching directions. First, equities dropped. Then they soared. Now they're stalling.
Most importantly, bulls refuse to give up, even if evidence of a coronavirus-induced slump is mounting. Some analysts, like Peter Boockvar, chief investment officer of Bleakley Advisory Group, believe it's only a matter of time before U.S. stocks are more severely affected by the outbreak.
"While the stock market assumes no impact from the virus as we continue to chug higher, expect much more of this kind of talk as companies figure out the full effect," he said.
"For many companies, these sales will not be made up."
Billionaire investor and hedge fund manager Ray Dalio, on the other hand, sees the coronavirus as nothing to worry about long-term.
"Because of the temporary nature of [the outbreak], I would expect more of a rebound," he said.
"It most likely will be something that in another year or two will be well beyond what everyone will be talking about."
In other words, analysts think the market could easily go either way – something that investors won't find particularly helpful at what could be a critical moment for stocks.
Still, though, there are a handful of trading opportunities "ripe for the picking" if you know where to look, even in these uncertain times.
Take Envista Holdings (NYSE: NVST), for example, a dental product company involved with dental implants, orthodontics, and digital imaging.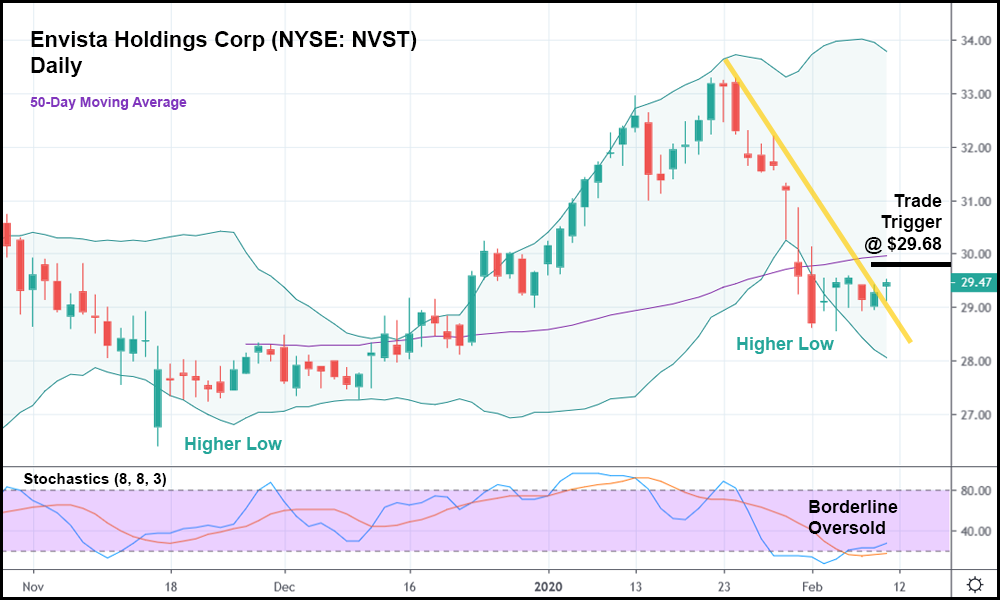 In the daily candlestick chart above, you can see that NVST has done a decent bit of selling since mid-January. After setting a higher low in November, the stock went on an absolute tear, rising over 20% at its highest point. Then, it hit the skids, dropping to another higher low.
And now, having set that second higher low, NVST is headed north once again. During today's topsy-turvy trading session, NVST broke out above its minor bearish trend (represented by the yellow trendline). The stochastics indicator suggests that the stock is borderline oversold, and the 50-day moving average is pointing upwards – both indicators that make it seem like NVST could rally in the near future.
Should NVST trade above the current day's high, it might make sense to go long with a trade trigger of $29.68.
Best of all, this stock isn't quite correlated with the rest of the market. Like many of our other recent picks, NVST is "disconnected" from the movements of the major indexes.
That means that if the coronavirus outbreak causes a slump, NVST shouldn't get caught in it. Instead, the stock could end up rising to a new 2020 high.