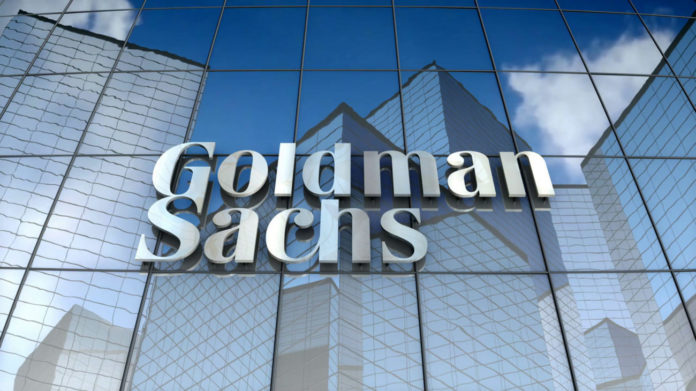 After a flat open, stocks finished lower today as the market grew weary of coronavirus relief talks in Washington. Lawmakers still haven't made any progress in the ongoing discussions, even after President Trump signed executive orders over the weekend.
The one bright spot this morning was Big Tech, which continued to shine through midday. When the afternoon hours hit, however, FAANG stocks gave up some of their returns and the Nasdaq Composite posted only a modest gain of 0.30%. The S&P and Dow, meanwhile, fell 0.20% and 0.30%, respectively.
The biggest notable Dow loser was Cisco Systems (NASDAQ: CSCO) after the company revealed disappointing earnings guidance. The stock dropped a whopping 11% as a result. Retailers and airlines got wounded in the selling, too.
Back on Tuesday, it looked like investors were beginning to rotate out of tech and into the less popular sectors. Today, much of that money rotated right back.
"We've had some rotation but no broadening out of the market," Peter Cardillo, chief market economist at Spartan Capital Securities, said.
"If we do get that broadening out, then we do get a second leg higher in this market rally. Without any significant news to lift the market, it's going to take some time to break above the all-time high."
Cardillo's right. Will tech stocks be able to rise indefinitely? Probably not.
At some point, small and mid-caps will need to do the heavy lifting.
But until tensions cool in D.C. and a coronavirus relief bill is agreed upon by Congress, that might not happen.
"The market still wants, and very much expects, an actual stimulus bill to be signed," wrote Sevens Report editor Tom Essaye.
"Looking forward, stimulus bill negotiations will continue, but [President Trump's] executive orders (combined with recently solid data) likely reduce the urgency to get something done, so realistically the market will be looking for an agreement over the next few weeks."
Sen. Roy Blunt (R-MO) dropped a bit of a bombshell today when he said that a deal might not get done until September.
When asked if that was a realistic timeline, Blunt replied:
"We'll see."
As it stands, Democrats and Republicans remain hopelessly divided. Republicans want Democrats to reduce their amount of stimulus demanded at $3 trillion. Democrats refuse to budge.
And so, on the market dawdles – likely aimlessly – until we get another headline to tell it where to go. If more choppiness is in store, though, there are still a few stocks that are worth trading.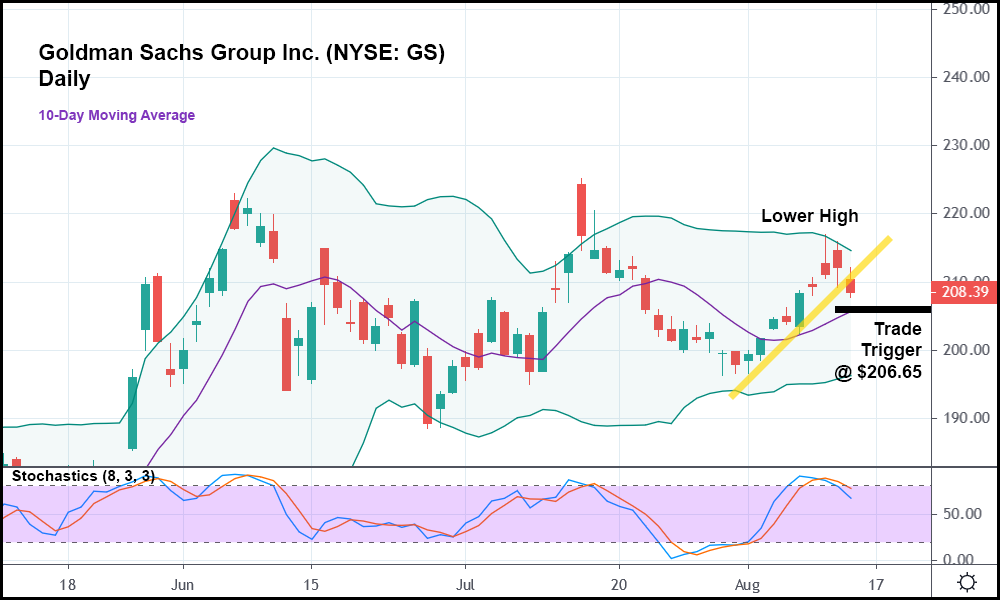 Take Goldman Sachs (NYSE: GS), for example, a bank that just set a lower high when the tech-to-financials rotation was put on hold yesterday.
GS hasn't really moved much since early June. The stock has bounced every which way, but it's more or less in the same position.
That's normally not ideal, but in this case, it makes GS far more predictable. Traders who recognize this will likely snatch-up some quick, short-term gains as a result.
The stock just closed below its minor bullish trend (represented by the yellow trendline) today, and though it hasn't breached the 10-day moving average yet, it's probably going to do so relatively soon.
For that reason, it might make sense to take GS short with a trade trigger of $206.65 should it trade below today's low.
And best of all, the general market doesn't even need to dip for GS to fall. The stock's been "ping-ponging" for months, now.
Catching it on the way down as part of a smaller move should be an easy trade, if not an unexpectedly profitable one, regardless of what the major indexes throw at it in the coming days.