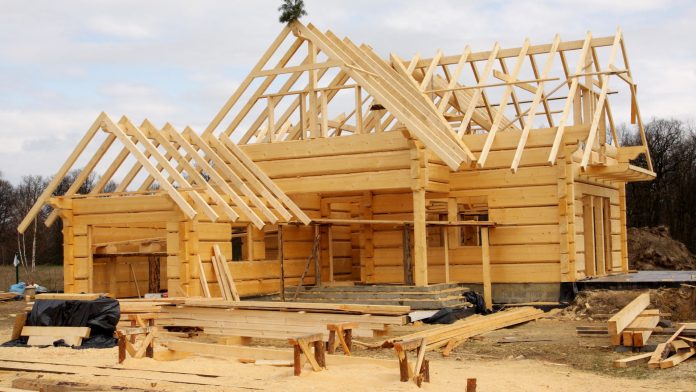 Over the last decade, Chinese investors have been gobbling up American real estate. In part, because houses in the U.S. were so cheap after the 2008 financial crisis, but also because it was seen as a smart investment.
Especially with the presence of an overinflated Chinese housing market.
In China, owning stock isn't nearly as popular as it is stateside. Over there, investors would rather buy property (real estate) than something less physical in nature (equities).
If you can't see it, touch it, or feel it, to many Chinese, it's not worth the trouble.
It's one of the biggest cultural differences between eastern and western nations, and over time real estate-inclined Chinese investors have created "mini-dystopias" within their country's borders.
Brand new apartment buildings sit completely vacant in some parts of China, even though each unit has been bought and paid for as an investment property. Homes in China's more rural communities have been converted into palaces, which like their apartment counterparts, are tenant-free.
Because for most Chinese citizens, the rent is far too expensive to make newly built real estate projects their home.
Some of the more desirable Chinese neighborhoods have home values approaching downtown Manhattan prices, despite the fact that household incomes there don't even come close to what American city-dwellers are earning.
As a result, high net worth Chinese investors are running out of real estate to buy. So, many of them instead shifted their focus to the United States – a place where homes were cheap in 2009 and an economic recovery was on the horizon.
And those who invested in real estate back then have done very well. But now, 10 years later, Chinese interest is starting to wane in a big way.
To the National Association of Realtors (NAR), that's cause for concern. Because in addition to lowered demand, it could be a signal that foreign money has grown far less confident in America's future.
From April 2018 through March 2019, the dollar volume of homes purchased by foreign buyers (not just the Chinese) dropped 36% from the previous year according to the NAR. Over that time period, foreigners bought only 183,100 properties with a total value of $77.9 billion, down significantly from 266,800 properties valued at $121 billion from the year before.
The median price paid was $280,500 – higher than the median for all American homebuyers ($259,600), but still down from $290,400, the median price from the previous period.
"A confluence of many factors — slower economic growth abroad, tighter capital controls in China, a stronger U.S. dollar and a low inventory of homes for sale — contributed to the pullback of foreign buyers," remarked NAR chief economist Lawrence Yun.
"However, the magnitude of the decline is quite striking, implying less confidence in owning a property in the U.S."
And while that very well could be true, there's also another possible explanation – one that Carrie Law, CEO and director of Juwai.com (a Chinese real estate website), proposed in a recent interview.
"We call it the Trump effect. It's a combination of anti-Chinese political rhetoric, a clampdown on visa processing, and of course tariffs," Law said.
"The Trump effect is undercutting some of the primary drivers of Chinese demand for U.S. property, including buying homes for students who are studying in the U.S. and the country's reputation as a safe investment."
And in this case, the U.S. might not be a "safe investment" only for Chinese investors, who fear the worst with Trump in the Oval Office. The President could potentially bar the Chinese from investing in American real estate altogether, making it a much harder sell to folks in the Far East.
Out of all the foreign groups sampled by the NAR, Chinese investment dollars dropped the most (56%) by a wide margin.
It could potentially mean that only the Chinese, NOT the rest of the world, have lost confidence in the U.S. real estate market. After all, the state-controlled Chinese media presents Trump as a demonic, evil force to their citizens.
Would you cross the Pacific to make a deal with devil? I know I wouldn't.
Especially if he keeps raising tariffs on the motherland.
So, while the NAR's recent data may be disappointing, I'd argue that it's hardly a sign of the "end times" for American real estate. If it proves anything at all, it's that the propaganda campaign in China is alive and well.
Moreover, it's working out beautifully for Xi & Co.
Long-term, even if a trade war conclusion is coming, it might not be enough to cool tensions between Chinese investors and the American government.
Deep-seated hatred has been sewn into China's veins, and unless their glorious Communist Party gives them permission to fall back in love with American homes, this trend may only get worse over time.