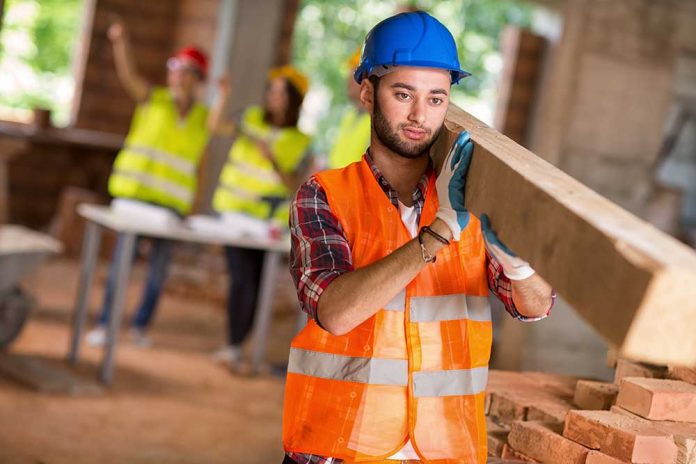 Stocks are rising. Fears are falling.
The result? An impressive bullish comeback, just one session removed from a coronavirus-induced slump.
The market's roaring again after taking Friday to contemplate the effects of the outbreak. Stocks opened lower this morning but ended up rising through the afternoon, propelled by yet another shift in sentiment.
At this rate, a bull market continuation could arrive tomorrow. The tech-heavy Nasdaq Composite – which stands to get absolutely scorched in the event of a Chinese meltdown – touched a new all-time high today during the surge.
And though tech's impressed, there's another sector that's done even better:
Homebuilders.
Yes, homebuilders; the group of stocks that we've featured several times now. Lennar (NYSE: LEN), which we bought back in mid-January at $61.00, is up almost 15% since then. Most stocks in the sector have experienced similar results.
However, one homebuilder – KB Home (NYSE: KBH) – hasn't enjoyed the same "pop" as Lennar & Co.  Instead, KBH climbed only 8% over the same period. As it stands, the stock is still trading beneath its 2020 high – something LEN surpassed on Friday.
Want more FREE research and analysis on the best "unseen opportunities" in the markets?
And though KBH hasn't risen as quickly, that doesn't mean it can't catch up over the next few days. In fact, based on the stock's recent price action, it's likely to happen relatively soon.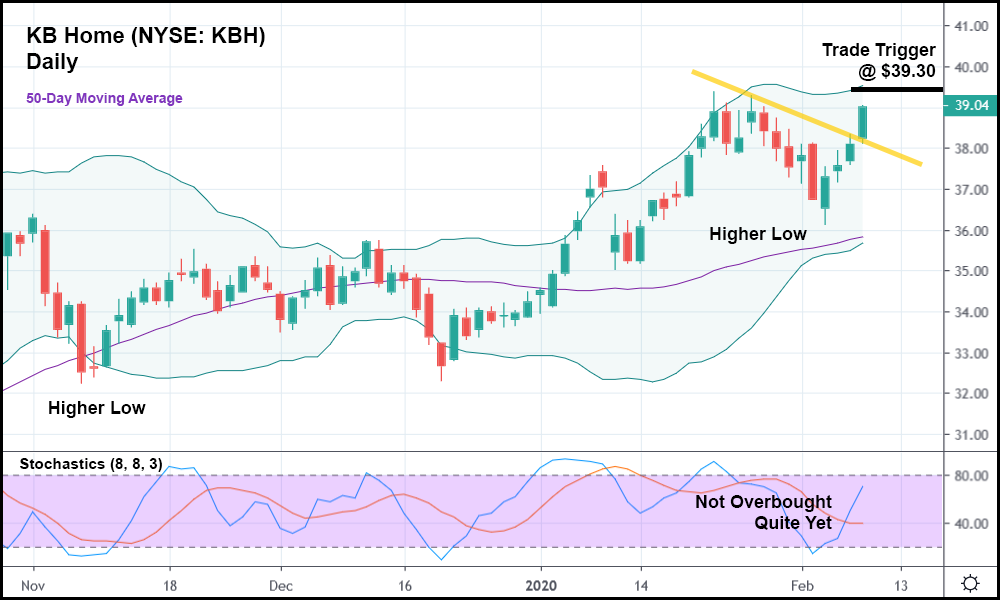 In the daily candlestick chart above, you can see that KBH is trading right near its 2020 high. The stock is roughly half a percentage point away from eclipsing it.
KBH also set a higher low (relative to another higher low from November) and the stochastics indicator suggests that despite today's rise, the stock is not yet overbought.
Most importantly, however, is KBH's minor bearish trend breakout. Share prices soared today, putting the stock within striking distance of key resistance.
Should KBH rise above today's high (and key resistance at the 2020 high), it might make sense to go long with a trade trigger of $39.30.
If KBH sets a new high, the sky's the limit provided that homebuilders keep climbing. The sector certainly seems poised to do so, making KBH a rare "value pick." Best of all, if the market ends up losing steam over the next few days, homebuilders should still flourish.
That's what happened on Friday when the major indexes sunk. It could certainly happen again.