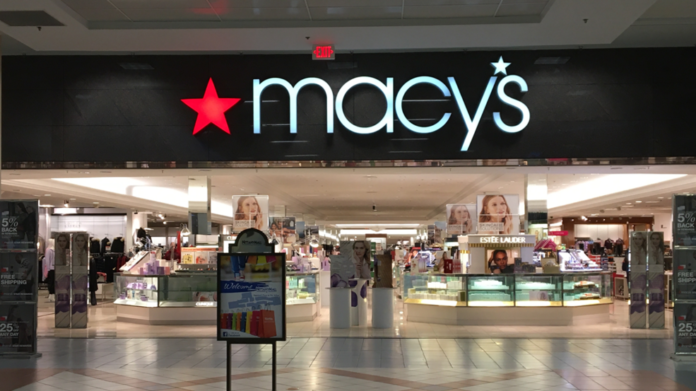 The S&P (+0.80%)and Nasdaq Composite (+2.00%) rose today while the Dow (+0.03%) closed flat. It was another odd trading session, marked by a strong performance from Big Tech (FAANG in particular) as coronavirus headlines waged war with market sentiment.
In other words, nothing's really changed.
Sure, last week saw FAANG stocks stumble. But since early June, the tech-heavy Nasdaq Composite has led the way in what's been a downright historic rally.
The index did little but go up since equities initially crashed in response to Covid-19, outpacing both the Dow and S&P by miles.
Now, it's looking to rise further, potentially past its recently set all-time high.
Will that actually happen, though?
Netflix (NASDAQ: NFLX) earnings disappointed last Friday as the stock's EPS fell short of analyst estimates. Investors learned that, despite a very solid Q2 from Netflix, tech stocks still appear significantly overvalued in terms of earnings.
Bulls will likely have to see strong quarterly results from the rest of FAANG to justify another leg up.
Today, however, the market had no problem pushing the Nasdaq Composite higher as more vaccine news kept traders feeling good.
A full economic reopening in the U.S. – something bulls believe will happen relatively soon – is the ultimate goal. Pfizer (NYSE: PFE) and BioNTech's (NASDAQ: BNTX) vaccine candidate showed positive results in a recently completed study, potentially increasing the odds of a quicker reopening.
The vaccine candidate "elicited high, dose level-dependent SARS-CoV-2-neutralizing titers and RBD-binding IgG concentrations after the second dose" according to a report summarizing the study.
AstraZeneca (NYSE: AZN) happily reported that its vaccine candidate also achieved encouraging results in a similar trial.
Good news was easy to find today, but it doesn't mean stocks will continue rising indefinitely, especially if tech stocks start to slip.
"If we lose [technology's] leadership in a meaningful way, I think it will adversely affect the overall market," Douglas Busch, founder of ChartSmarter, said.
"If the sector can just take a rest, and keep in the middle of the pack akin to a smart jockey that has a lot of horse under him in a thoroughbred race, then it will likely see a surge again into the fall."
Tech has yet to truly falter, of course, but that could all change in a hurry if Q2 earnings disappoint. And if the market's due for another correction, certain reopening-sensitive stocks could get wounded in the process.
Take Macy's Inc. (NYSE: M), for example, which is dangerously close to breaking through key support.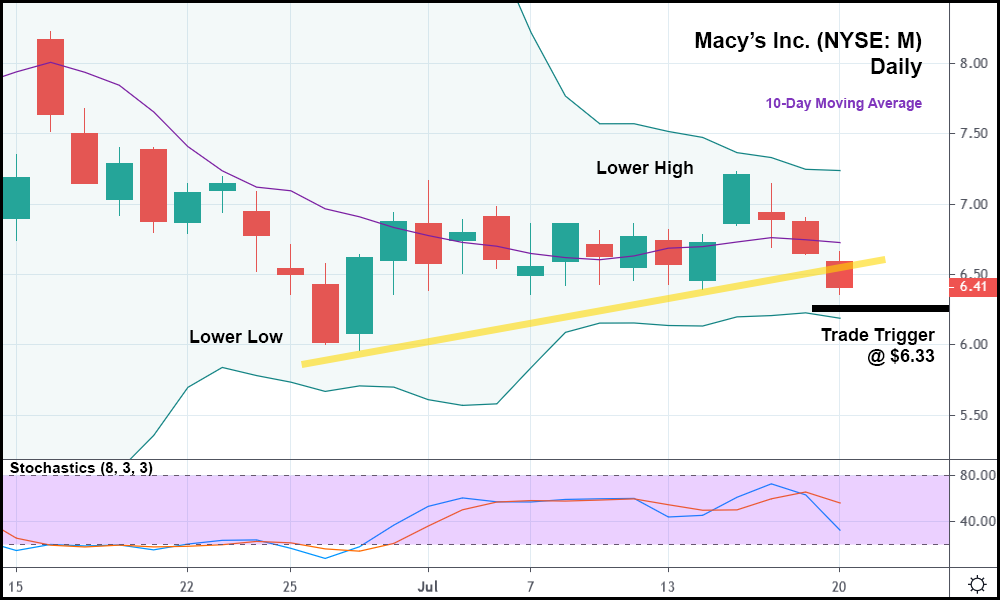 After peaking in early June, then again a few days later, M has plummeted back down to earth. The stock's chopped sideways for weeks, unable to truly escape the 10-day moving average in any meaningful way.
Today, however, it opened and closed below that moving average. M also closed beneath its minor bullish trend (represented by the yellow trendline).
The stock also sits on a freshly set lower high and lower low, which are both bearish indicators.
Should M trade below today's low, it might make sense to take the stock short with a trade trigger of $6.33. The lower Bollinger Band (BB) lingers nearby, but once M "breaks containment," it's likely to plunge well past the constraints of the lower BB.
All while coronavirus cases continue to rise, and eventually, Big Tech encounters a few earnings-based headwinds.