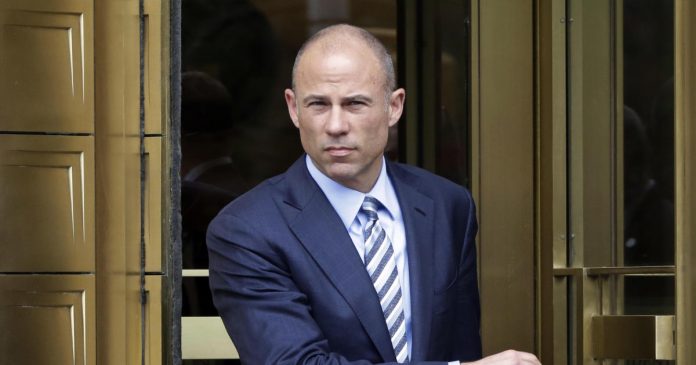 On Saturday, just weeks after being arrested for attempted extortion, "creepy porn lawyer" Michael Avenatti released a 41-page document detailing Nike's (NYSE: NKE) alleged bribery of over 100 college athletes – one of which being star basketball player Zion Williamson.
In the supposed "evidence" made public by Avenatti, he claims that Nike provided payments disguised as consulting fees to the families of athletes across the nation, coercing them to attended "Nike" colleges (schools that issue only Nike apparel to players).
And though it might be difficult for many Americans to believe Avenatti after representing Stormy Daniels in her case against President Trump, that doesn't change the fact that he could still be telling the truth about Nike.
Even if he has a history of being a bit of a slime ball.
The precedent is certainly there. College sports have been marred with corruption and scandal for decades, and one of the NCAA's worst kept secrets revolves around prominent players receiving financial compensation for their talents.
Back in 1987, Southern Methodist University famously received the "death penalty" for paying athletes to play at SMU, and since then it seems as though universities haven't learned their lesson. Instead, they got better at hiding it.
But even then, every couple of years, colleges still get caught paying athletes under the table. In fact, in 2018, an FBI investigation determined that the practice was still widespread – a "revelation" that surprised almost nobody who followed college sports.
So, Avenatti's allegations, while extreme, fall in line with what so many people already suspect. The difference here, though, is that a corporation is doing it – not a university booster club full of wealthy alumni.
In the end, though, if Avenatti's just been "crying wolf" this whole time, then Nike (and their investors) have nothing to worry about, right?
It's something that Nike could easily reject via a public statement – saying that not only do they not bribe players, but that they wouldn't dream of tampering with the sanctity of college athletics.
Instead, they said this:
"Nike will not respond to the allegations of an individual facing federal charges of fraud and extortion and aid in his disgraceful attempts to distract from the athletes on the court at the height of the tournament. Nike will continue its cooperation with the government's investigation into grassroots basketball and the related extortion case."
Their statement, while carefully crafted, also doesn't even come close to denying any accusations of bribery. It's blame-deflection 101, and makes Nike appear as though they've been caught with their hand in the cookie jar.
Moreover, it's obviously been written so that if Nike does come out on the wrong end of this, they won't be skewered for lying after the release of Avenatti's 41-page report – a document that he claims contains incriminating bank statements, invoices, and text messages.
And as strange as Nike's response may have been, what's even more bizarre about this whole fiasco is that if Avenatti is telling the truth, he could still end up going to jail for extortion – provided that Nike has also been truthful about their recent communications with him.
It's certainly an awkward situation for the NCAA to be in, especially with March Madness coming to a close this evening. Pre-game commentators will likely discuss the allegations at length in the hours leading up to tip-off, cluing in the remaining college basketball fans who've been ignorant to what's been going on.
Should Nike eventually be found guilty of bribing amateur athletes, competitors like Adidas and Under Armour (NYSE: UAA) could have a huge opportunity to claw back some much-needed market share from the "coolest" athletic apparel company on the block.
And even if Nike's conduct doesn't prompt a reaction from the SEC or the feds, the controversy alone could be enough to scare off "sell the news" investors, causing NKE shares to collapse just weeks after reaching their all-time-high.
But that all hinges on whether or not Avenatti is telling the truth.
If he is, then Nike deserves what's coming to them. If not, then Avenatti should be prosecuted to the fullest extent of the law for not only smearing Nike, but potentially harming their investors as well.