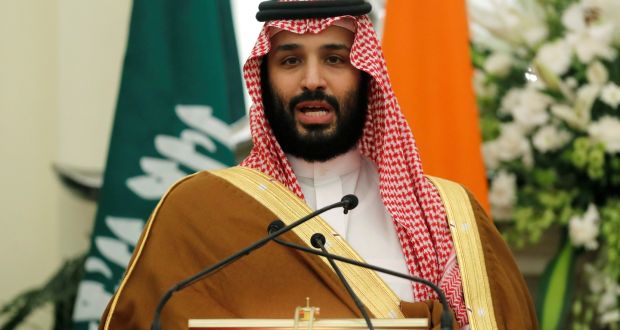 Thought the sky-high oil talk was behind us? Not anymore, thanks to Saudi Arabian Crown Prince Mohammed bin Salman, who warned investors that record high oil prices are a real possibility should tensions escalate in the Persian Gulf.
Two weeks ago, his country's oil industry was hit by a drone and cruise missile attack – both of which Saudi Arabia and the U.S. have blamed on Iran.
"If the world does not take a strong and firm action to deter Iran, we will see further escalations that will threaten world interests," said the crown prince in a 60 Minutes interview over the weekend.
"Oil supplies will be disrupted and oil prices will jump to unimaginably high numbers that we haven't seen in our lifetimes."
The September 14th (Saturday) attacks on Saudi Aramco facilities caused the country to temporarily suspend 50% of its oil output, reducing the world's daily Brent crude production by an estimated 5%. Oil prices skyrocketed the following Monday (the 16th), rising 19.5% to $71.95 per barrel when the market opened.
Since then, prices have come back down in response to an "oil stimulus" from the World Crude Oil Reserves, which flooded the market with ample supply. It became apparent to speculators that not only can the market absorb a shock production disruption, but that we may even be approaching excess capacity – the point at which the demand for oil falls below maximum production capacity.
And while that may be true, bin Salman believes that the world is at risk of losing a much more significant chunk of its oil output, among other things.
"[The Middle East] represents about 30% of the world's energy supplies, about 20% of global trade passages, about 4% of the world GDP," he said.
Want more FREE research and analysis on the best "unseen opportunities" in the markets?
"Imagine all of these three things stop. This means a total collapse of the global economy, and not just Saudi Arabia or the Middle East countries."
Experts within the industry are projecting a price surge of $100 to $150 per barrel in the event of a war between Iran and Saudi Arabia, who just so happen to be two of OPEC's top three oil producing nations.
Saudi Aramco, meanwhile, worked to restore its oil output to regular levels by the end of September – a promise they made following the attacks.
As of September 30th, company executives say that 50% of production capacity has been restored, falling short of Aramco's goals. It was enough to halt Brent crude speculators, however, as evidenced by falling oil prices.
And so, while the crown prince's warning certainly sounds troubling, it also seems a little hyperbolic in nature.
Especially after the world tapped into its oil reserves following the September 14th attacks.
Record high prices, even if oil production gets slashed by 30%, are unlikely. Thanks to technological breakthroughs over the last decade, humans are producing more barrels per day than ever before.
If Iran and Saudi Arabia are taken "out of the game", there will be other regions that will be more than happy to pick up the slack, like the Permian Basin in West Texas. As it stands, bin Salman's appearance on 60 Minutes may have been more of a cry for help than anything else.
With enemies all around them, the Saudis – who are currently backed by Western powers – want the U.S. military on their side should war break out with Iran. Defending the world's oil interest, and by proxy, its economy, might be a cause worth fighting for.
Provided that's what's actually at stake.
After all, the crown prince has reason to oversell the true risks of an Iranian conflict.
And based on what's transpired since the Saudi Aramco attacks, that sounds exactly like what he's trying to do.