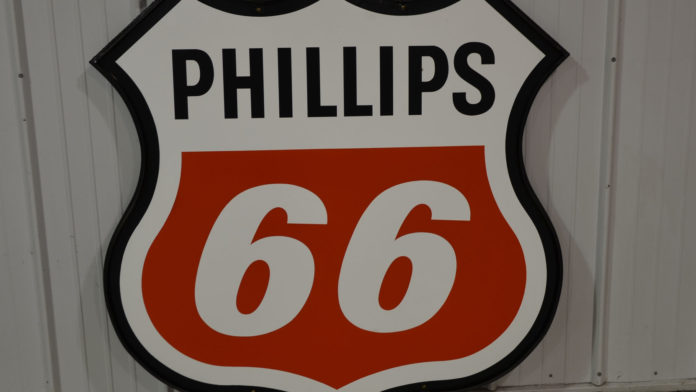 The Dow soared and the Nasdaq Composite sunk while the S&P 500 closed slightly higher this afternoon. The market was due for a shift in power.
Now, it's starting to happen.
Big Tech got blown out today in another zig-zag trading session that certainly had its ups and downs. The topic of discussion was President Trump's weekend executive order. Signed this Saturday, Trump targeted a $400 weekly unemployment benefit with his newest plan. Cash for the financial aid would have to come from federal funds – something Congress controls.
And unless the White House can get House Democrats on board, the unemployment extension won't happen for that reason. Still, some analysts believe it's a step in the right direction.
"While this move by Trump may lead to legal challenges, politically it puts pressure on Congress to reach a deal," Bill Stone, chief investment officer at Stone Investment Partners, wrote.
A handful of sectors were hurt by the turmoil, but none got it worse than tech. FAANG members Facebook (NASDAQ: FB) and Netflix (NASDAQ: NFLX) each fell over 2% while Microsoft (NASDAQ: MSFT) dropped 1.99% on its own. Small and mid-cap stocks had a much better day by comparison.
"This actually suggests investors are turning more sanguine on the broader macro landscape, encouraged by the solid CQ2 earnings season and the bullish July economic data last week," explained Vital Knowledge founder Adam Crisafulli.
And if Treasury Secretary Steven Mnuchin gets his way, another round of stimulus could boost the market's laggards even further.
"The president is determined to spend what we need to spend. […] We're prepared to put more money on the table," Mnuchin said in an interview this morning.
"Again, if we can get a fair deal, we're willing to do it this week."
Mnuchin's comments echo the sentiment of the Fed, which seeks to provide dovish monetary policy for as long as possible. Fed Chairman Jerome Powell said as much in a press conference several weeks ago.
Investors seem to be losing faith in both the dollar and America's financial institutions as a result. With cash flooding the market, gold and silver have gone on monstrous rallies over the last few weeks.
However, that doesn't mean equities are set to collapse again any time soon. It's a Fed-sponsored bull run. Until Powell cuts-off the supply of money, stocks could easily go for another leg up.
Even if it means digging a deeper hole for the dollar.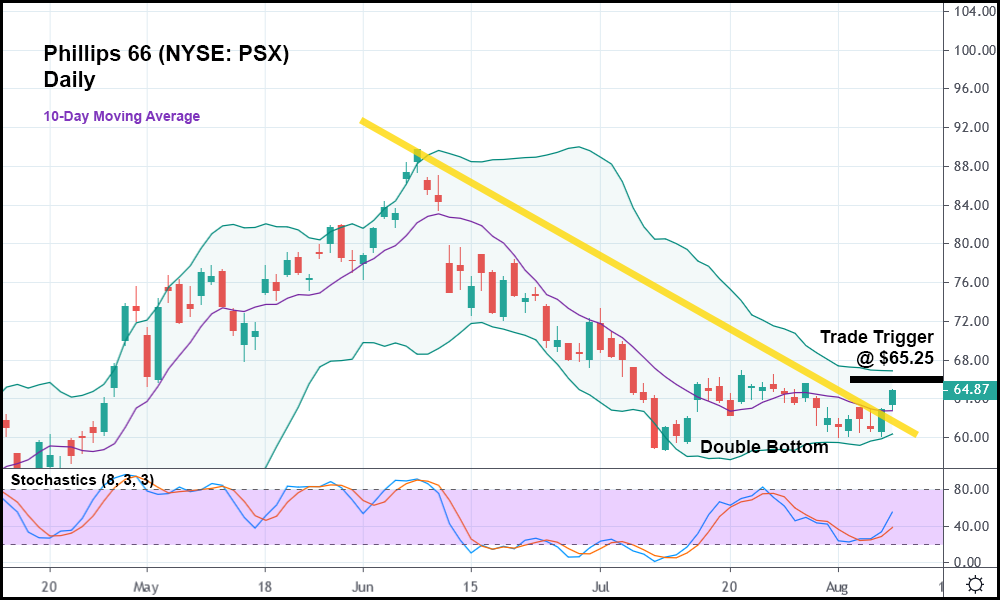 And so, there are likely to be many beneficiaries of another equity surge – companies like Phillips 66 (NYSE: PSX) in particular. As an energy stock PSX has mostly sold-off since peaking in early June.
It now sits atop a "double bottom" (a common trend reversal formation) and is looking to make a move higher. Today, in fact, the stock managed to break out above both its bearish trend (represented by the yellow trendline) and the 10-day moving average.
Should PSX trade above today's high, it might make sense to take the stock long with a trade trigger of $65.25.
Scores of energy companies fell behind in the recent market recovery. PSX included.
That's what makes it such an attractive buy at the moment, especially as the government's money machines start spinning into high gear once more.