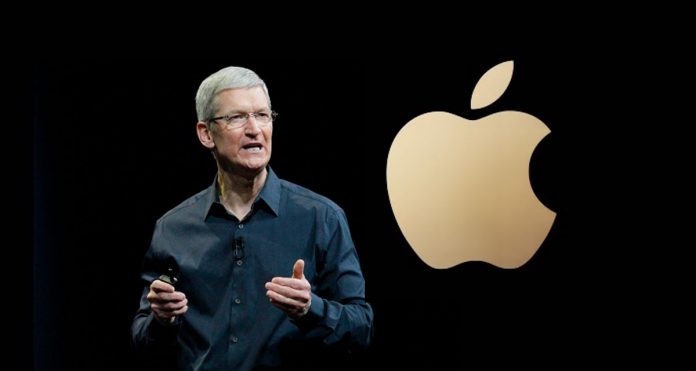 Apple (NASDAQ: AAPL) had a huge year in 2019. The company released a new model of its flagship smartphone – the iPhone 11 – and saw its stock rise over 86%. The entire market did well, of course, but Apple's yearly gain dwarfed the indexes. The S&P, Dow, and Nasdaq Composite only increased by 28%, 22%, and 34%, respectively.
In 2020, however, the company got off to a less-than-auspicious start. British comedian Ricky Gervais blasted Apple at the Golden Globe Awards last night, slamming the tech giant for its overseas production facilities.
"Apple rolled into the TV game with a superb drama about the importance of dignity and doing the right thing, made by a company that runs sweatshops in China," Gervais said, referencing Apple's new streaming service, Apple TV+.
"So, you say you're woke, but the companies you work for, unbelievable. Apple, Amazon, Disney. If ISIS started a streaming service, you'd call your agent, wouldn't you?"
It was a bad look for CEO Tim Cook, who the camera panned to (then quickly moved away from) during Gervais's opening remarks. Cook attended the Golden Globes to build goodwill for Apple TV+.
Instead, it became an embarrassing affair that scared-off investors.
AAPL shares dropped sharply at the open this morning, before recovering by noon. As of midday, the stock is up 0.60%. At first glance, it would appear that tech bulls don't care about the human suffering "baked in" to each iPhone.
Or do they?
Gervais, who was right to demean sweatshop manufacturing, also missed the mark concerning Apple's suppliers in the Far East.
Back in 2012, China labor activist Qiang Li (of China Labor Watch) said that Apple was doing a much better job at enforcing factory condition standards than Dell, Hewlett-Packard, Nokia, and many others.
"I compared Apple with other cell phone companies, such as Nokia. And the conditions in those factories are worse than the ones of Apple," he said in an interview with Laptop magazine.
In particular, Li appreciated Apple's commitment to disclosing problems the company found at its suppliers. Dell and HP, by comparison, haven't been nearly as forthcoming.
That was a little less than 8 years ago, right around when Foxconn – a Taiwanese electronics manufacturing company – had several employees commit suicide due to strenuous working conditions.
"Foxconn is not good," Li told the New York Times. "But if we compare all industries, electronics, textile, toys, Foxconn is one of the best."
Apple could be described the same way. When consumers found out "how the sausage was made" in 2012, smartphone manufacturers were widely criticized for giving business to sweatshop suppliers.
There's no argument that doing so is a bad, immoral thing.
But in 2012, Apple was the "best of the worst." And these days, they've only gotten better at enforcing workplace standards – something investors don't typically hear about.
So, while Gervais was partially correct about Apple, he failed to mention that it's the most progressive out of all the major electronics manufacturers relying on Chinese suppliers. Sure, Tim Cook & Co. could shift the company away from China, but doing so would increase the cost of their products.
Would Western consumers be okay with paying a "morality premium?" Maybe, maybe not. With share prices trading at an all-time high and record profits under his wing, Cook isn't about to overhaul what has proven to be an effective supply chain strategy.
Especially when his company is leading the industry in keeping the "sweatshops" at bay.