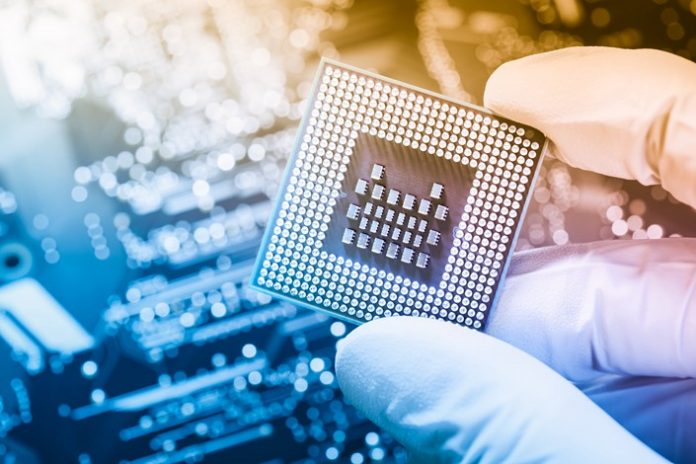 After setting a three-year low yesterday, the market's making a comeback.
The Dow erupted for a 1,500 point (8%) gain this morning alongside a rising S&P (+6.8%) and Nasdaq Composite (+6.1%).
Investors are hopeful that a yet-to-be approved coronavirus stimulus package is coming. House Democrats believe they can reach an agreement with Senate Republicans "soon." Senate Republicans feel the same way.
That's exactly what they said yesterday before the stimulus bill failed in the House.
"I think there is real optimism that we could get something done in the next few hours," remarked House Speaker Nancy Pelosi in a pre-market interview.
The main sticking point for Democrats revolves around unemployment insurance, which is something Republicans would rather skip in favor of direct payments to citizens (and businesses) via the federal government. The House wants unemployment insurance expanded. The Senate doesn't.
Their disagreement was enough to conjure a "no" vote in the House last evening.
Now, however, Pelosi feels that Republicans have made enough changes to the plan to get a deal done.
"We think the bill has moved sufficiently to the side of workers," she said.
President Trump, who appears to be losing his patience, urged Congress to work out an agreement.
"Congress must approve the deal, without all of the nonsense, today," he tweeted.
"The longer it takes, the harder it will be to start up our economy. Our workers will be hurt!"
With "all hands on deck" for stimulus relief, investors are buzzing, too, possibly ignoring the fact that U.S. coronavirus cases are still on the rise. Nearly every sector is feeling the love.
But one in particular – semiconductors – has emerged as a potential "recovery winner" should the market continue rallying. Especially if the $2 trillion stimulus bill is approved later today.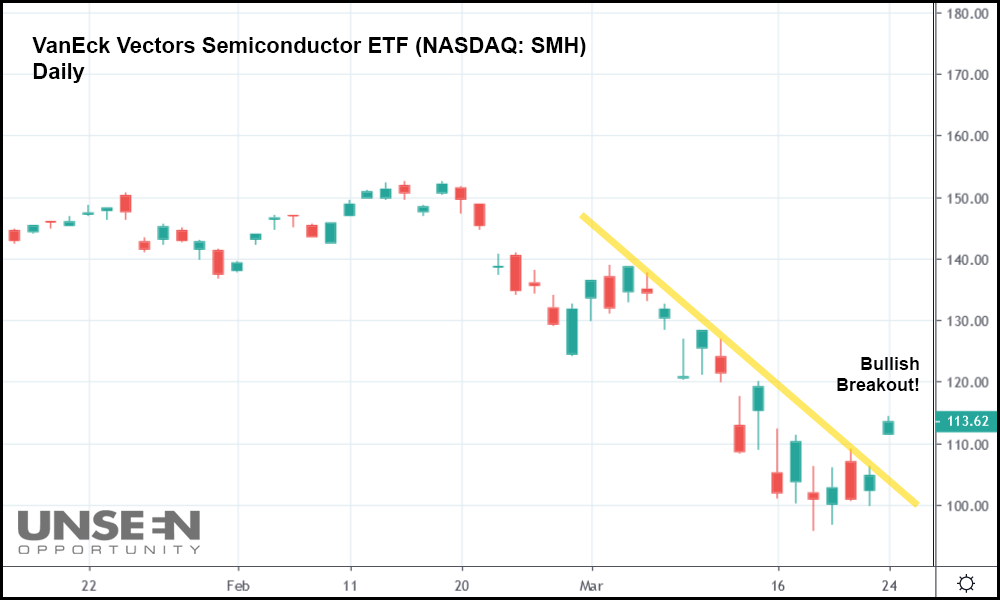 In the daily candlestick chart above (in which each bar represents one trading day), the VanEck Vectors Semiconductor ETF (NASDAQ: SMH) has shown its first sign of a trend reversal. The ETF's been dropping for weeks now but could finally be turning things around after bottoming.
Today, SMH broke out above its minor bearish trend (represented with the yellow trendline). Another move upward would likely confirm that semiconductors are "back" and that the sector could absolutely skyrocket once a larger market-wide recovery takes place.
Semiconductor stocks have been some of the market's top performers over the last few years. In bull runs, these stocks thrive.
Don't be surprised to see semiconductor shares outperform again once the COVID-19 sell-off ends. It's already happening on sound bites from Nancy Pelosi and newfound economic stability in Asia.
Just imagine the price explosion that could result from a legitimate U.S. recovery.
That's not to say that a stimulus relief package alone will spur on a rally. The market needs to, at the very least, string together a few positive trading sessions in a row before it enters reversal territory. Even if Congress approves the stimulus bill today, it might not be enough to keep equities rising for the rest of the week.
Since the crash began, investors have witnessed several massive pullbacks following temporary daily surges. Another one could easily occur in the coming days if sentiment doesn't shift.
However, if semiconductors can produce a multi-session gain this week, it might be time for traders to saddle-up and buy. After this morning's leap, the sector looks primed to soar.
Don't miss it if it does.