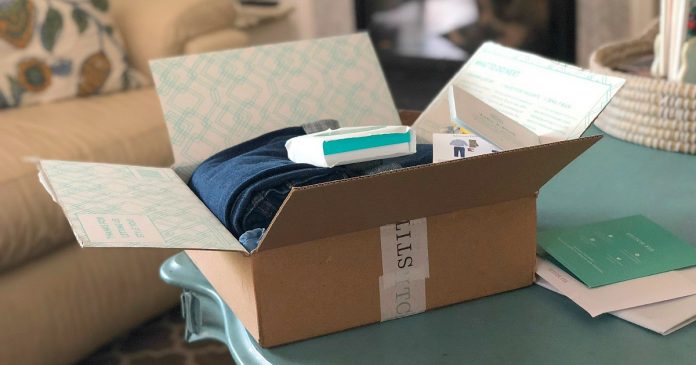 Another day, another wild trading session.
Stocks popped this afternoon alongside oil and treasury yields after a disastrous Monday. A recession, many analysts claimed, would soon be here due to yesterday's yield and oil collapse.
The White House took notice of the deteriorating situation and quickly announced that a payroll tax cut could be coming. President Trump clarified that the tax incentives would arrive on top of an already authorized $8.3 billion spending package he signed last week. Specific proposals are pending, but it seems to be enough to push equities higher.
For the day, at least.
A healthy dose of fiscal stimulus – whatever it may be – could be key in avoiding further turmoil. Money managers are starting to warm up to the idea that a Trump cash injection will save the day.
"Fiscal stimulus is the antidote that can bridge the gap between what was happening before coronavirus and what will happen after it," said Brent Schutte, Northwestern Mutual Wealth Management's chief investment strategist.
"It certainly can't cure the virus, but it can help contain some of the economic fallout."
Schutte continued, adding that "today's trading activity is the market trying to gauge whether the stimulus is going to be sufficient."
If the Trump administration can come up with an answer that satisfies Wall Street, stocks could recover in spectacular fashion.
But if POTUS disappoints the masses? Look out below, because another "leg down" could be coming.
Allianz economist and former PIMCO CEO Mohamed El-Erian believes that's precisely what will happen.
"It's going to be very volatile but around, unfortunately, a downward trend for now," he said this morning on CNBC's "Squawk Box."
El-Erian continued, questioning how quickly investors will give up on a flailing economy.
"How will you and I react? Are we going to exaggerate the downward trend? Are we going to de-engage from the economy at a faster rate? If we do, it's going to be pretty messy."
And should investors "de-engage" faster than expected, some stocks are likely to get wounded more than others.
Take Stitch Fix Inc. (NASDAQ: SFIX), a stock that got hammered for a 30%+ loss today, for example.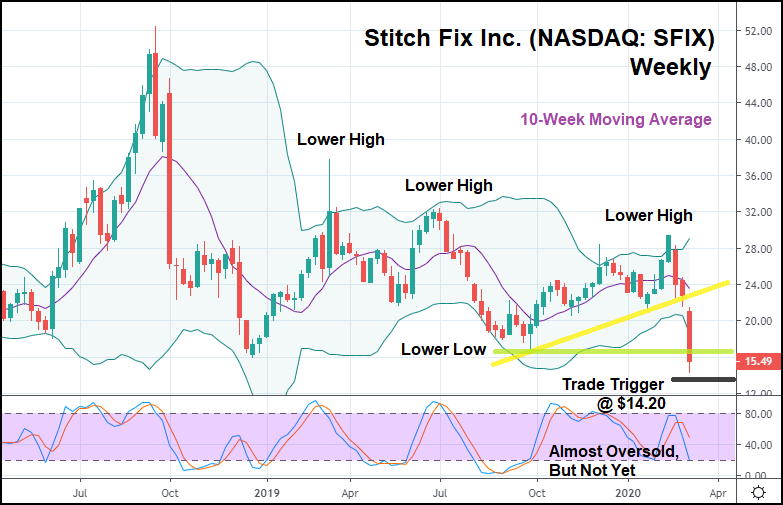 In the weekly candlestick chart above, you can clearly see SFIX's tumble this week as a result of poorly received earnings. The earnings themselves came in better than expected, but the company's outlook was downright depressing for shareholders.
And despite already dropping 30% today, SFIX looks as though it could fall further. It just broke out below its minor bullish trend (represented with the yellow trendline) and key support (represented with the light green trendline). Add in three lower highs and a lower low, and you've got a recipe for another collapse.
Especially if the general market gets hit with a second wave of pessimism.
Should SFIX trade below this week's low, it might make sense to go short with a trade trigger of $14.20. That almost seems inconceivable given how far its already fallen, but a quick glance at the stochastics indicator reveals that SFIX could tumble once more. It might not fall for several weeks in a row, but opportunistic traders should be able to swoop in for a quick gain.
Once SFIX starts heading north again, it'll be time to get out, most likely with a rapid post-earnings profit – something most traders will have missed.