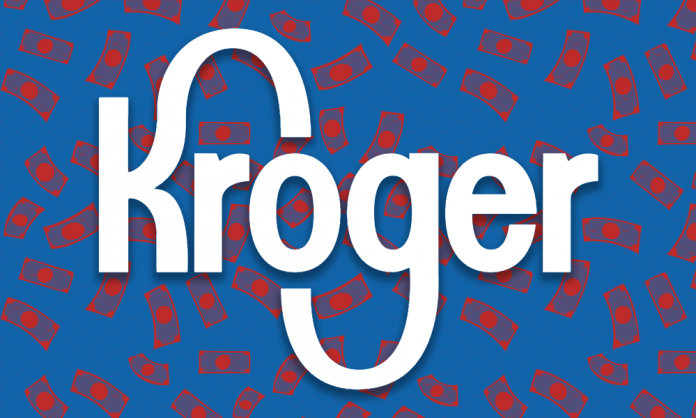 In an upbeat earning's call last Thursday, the CEO of Kroger Co, Rodney McMullen, shared the news that the company's digital strategy was finally paying off. The acquisition of the country's largest private meal kit company, Home Chef, combined with a new partnership with Ocado Group, led to a 60% increase in digital sales.
The news, however, did not convince some financial analysts, who saw ominous signs in the new digital strategy.
Does McMullen have a good case for the positivity? Or could Kroger be another Sears in the making?
Kroger Takes Heat for Its Digital Ambitions, A More "Balanced Growth Strategy" May Be Necessary
Last week, Kroger (NYSE: KR) CEO Rodney McMullen was excited to share more information about the company's digital strategy.
"We're moving from a traditional grocer to a growth company with a strong customer ecosystem that offers anything, anytime, anywhere," said McMullen, who was adamant about creating "asset-light, high-margin alternative partnerships and services" moving forward.
That sounds like a solid cost-effective strategy for Kroger in the years ahead, doesn't it? So how then did Kroger find itself in the unflattering position of being compared to the now-bankrupt Sears Holdings Co?
That interpretation can be traced back to an analyst at GlobalData Retail: Managing Director Neil Saunders.
Saunders had a very different take of McMullen's digital sales strategy, who believes the CEO is telling investors the same feel-good digital claptrap that Eddie Lampert—the CEO of Sears Holdings—told his investors before the company went belly up.
"This mantra was also one peddled by Eddie Lampert, who used it to justify the deterioration in stores," said Saunders. "This did not work out well for Sears and ultimately, we do not believe it will work out well for Kroger unless the company comes up with a more balanced growth strategy."
That growth strategy, according to Saunders, means investing more into Kroger stores themselves, which "feel run down and dispiriting."
Moody's seems to agree with Saunder's assumptions. In an October report, the credit rating company wrote that "Despite the many compelling reasons for online sales to grow, we think most of the growth in online grocery sales will be limited to certain densely populated metropolitan areas." Moody's also noted that perishable items continue to be a challenge that no grocer has managed to solve so far with any real success.
Warning for Bears: Kroger Won't Be as Easy a Target as Sears
Despite the comparisons, Kroger has a lot more going for it than its naysayers give it credit for.
From a technical standpoint, Kroger has been hitting a series of higher highs and lower lows since September 2017: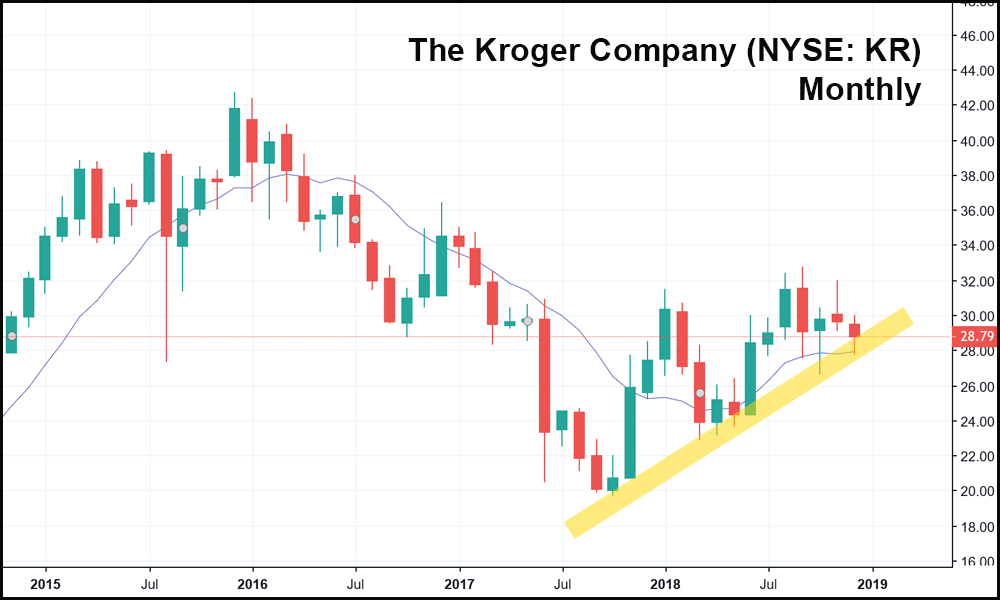 In-store revenues are holding steady at around $27.7 billion and digital revenues grew 60% in the 3rd quarter. Do those sound like numbers you'd see out of a company facing a looming bankruptcy?
Hardly.
And Kroger has done so despite facing threats from Amazon's digitalized Whole Foods and Germany-based Lidl Stiftung & Co.
Here's the bottom line: any "Sears-like" move for Kroger—if it ever does happen—is years into the future. Company share prices are up on the year and they've beaten all major U.S. indexes. That's a huge feat for 2018, and it points to Kroger possessing significant strength moving forward.
It's true that share prices have fallen off since their 2015 all-time-high, but we are still nowhere near a bankruptcy scenario for the company. Kroger is by no means impervious to the same fate as Sears holdings, but it's engaging the issues from a position of strength – something that Sears was never able to do as illiquidity rapidly approached.