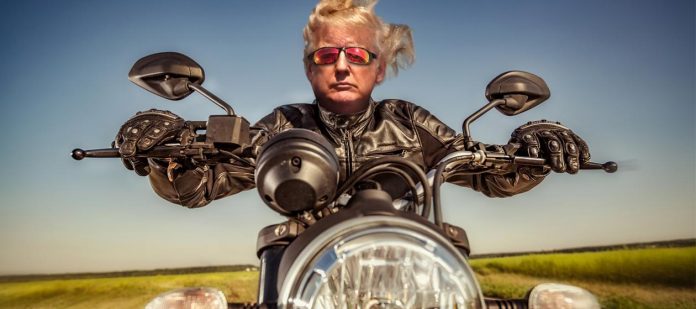 Harley's hurting – there's no doubt about it.
Falling demand, heightened material costs (due to U.S. tariffs), and European taxes on imports have severely impacted company earnings.
It's something analysts saw coming back in June of last year, when the EU levied duties against Harley Davidson (NYSE: HOG), causing the motorcycle manufacturer to move some of their production overseas.
And it all started with a series of tariffs imposed against Europe by President Trump, which immediately provoked a retaliatory strike against HOG, one of America's most iconic brands.
Trump was initially tough on Harley Davidson for their European-manufacturing shift, saying that the company was needlessly "surrendering" to the EU.
But now, almost a year later, he's changed his tune – pledging to exact revenge against the EU for "unfair" tariffs which have been partially responsible for Harley's 27% drop in first-quarter profits.
"So unfair to U.S. We will Reciprocate!" wrote Trump in a tweet this morning, citing Fox Business' Maria Bartiromo, who commented that Harley Davidson is currently enduring a 31% tariff on European business.
But even though the tariffs seem to have knocked HOG off track, the fact is that the company still posted an earnings beat – surpassing the earnings per share (EPS) Zacks Consensus Estimate of 67 cents. Harley Davidson reported an 80 cent EPS for Q1 2019, meaning that even though things haven't been going great, they aren't nearly as bad as many analysts predicted.
Company revenues disappointed ($1.2 billion in Q1 2019 vs. $1.36 billion in Q1 2018), but overall, it was a nice surprise for Harley bulls that feared the worst. Some investors expected a major collapse for HOG shares in the event of another earnings miss, since they reported only a 17 cent EPS in late January (vs. the expected 31 cent EPS).
Had Harley Davidson logged another bad quarter, bears would've likely ran the stock ragged.
But as it turns out, HOG bucked the trend in this year's first quarter – at least temporarily – and even in the face of some hefty EU tariffs. The company's not doing great by any stretch of the imagination, but they've managed to stop the bleeding – a very important first step on the road to recovery.
It seems that doesn't matter to President Trump, though, who now looks ready to skewer the ailing EU even further. He's shown in the past that any attacks against American corporations – even the ones that he's had issues with – won't go unpunished. As a result, the United States is earning a reputation as a trade policy counter-puncher.
Should Trump go through with additional EU tariffs, he'll be sending a message that no one is safe from America's wrath – ranging from Chinese pseudo-Communists to major European coalitions.
If you mess with the bull (or bulls, in this case), you'll get the horns, even as a long-term trade partner. And based on the reaction from Harley Davidson investors today, it seems that they like the White House's approach.
HOG shares dropped sharply at the trading session's open, falling almost 4.5% before recovering by noon.
Yes, Harley Davidson did post an earnings beat, but the real story here is that President is willing to go to bat for almost any American corporation these days. Having an ally in the oval office is great for any company, but as we're now starting to see, POTUS doesn't mind getting his hands dirty to save his country's most iconic brands.
And that, in addition to the general market's lift today, should be encouraging news for investors, arguably more so than a Harley Davidson earnings beat.