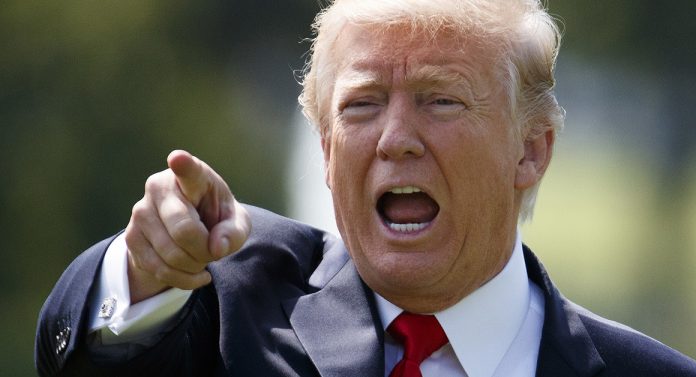 It's official:
President Trump has Covid-19.
And the first lady, Melania Trump, does too.
Uncertainty surrounding the upcoming presidential election has weighed heavily on investors over the past few weeks. Now that POTUS is infected with coronavirus, that weight's become an even more troublesome burden.
The Dow, S&P, and Nasdaq Composite are all down as a result. Reopening-sensitive stocks (like cruise lines and airlines) have led the plunge.
To Vital Knowledge founder Adam Crisafulli, today's Covid bombshell ultimately skews positive for Joe Biden as it will keep Trump under quarantine and possibly away from the public eye.
"[Investors will] debate the implications this has for stimulus, reopening, and the election," wrote Crisafulli in a note.
"Politically speaking, the Trump diagnosis (like the debate) is affirming and likely cements Biden's poll lead."
Alternatively, if Trump comes out on the other side of this feeling healthy, it could end up being a boon for his re-election campaign.
"The President and First Lady are both well at this time, and they plan to remain at home within the White House during their convalescence," said White House physician Dr. Sean Conley in a memo.
He added that he expects Trump to "continue carrying out his duties without disruption while recovering."
This morning, a White House official stated that POTUS was experiencing "mild symptoms." Trump has long been an advocate for hydroxychloroquine as an anti-coronavirus treatment method. Moreover, he's admitted to taking the drug as a preventative measure.
Recent studies suggest that when taken early, hydroxychloroquine can curb the effects of Covid-19 significantly. If Trump's still taking the drug, he should theoretically be able to mitigate his symptoms.
Vice President Mike Pence and second lady Karen Pence, meanwhile, have both tested negative. Treasury Secretary Steven Mnuchin has also tested negative as well.
Overall, stocks haven't plummeted as much as one would expect following such a stunning diagnosis. But that hasn't stopped analysts from going full "gloom and doom" over the news.
"It really brings into stark reality that we are potentially going into […] a second wave," explained Jeff Henrikson, CEO of Thorpe Abbotts Capital.
"President Trump getting this really highlights that in a way that I think it will focus attention back on the virus and the effects it will have."
Once again, the argument will be made about whether preventing the spread of the virus is even possible these days. Countries that enforced strict lockdown measures and mask requirements are still seeing an uptick in cases.
Instead, simply finding better ways to treat the virus may be a more effective strategy.
Investors seem to have realized that, too, as evidenced by a surge among share prices of treatment manufacturers. Moderna (NASDAQ: MRNA), for example, saw its stock jump 2.5% higher shortly after the market opened.
If there's a silver lining to any of this, though, it could come by way of a sooner-than-expected stimulus package. The Senate may feel more urgency to make a deal should Trump press Republicans to do so.
"[It could] jumpstart the stimulus that seems to have been bogged down," remarked Tom Block, policy strategist at Fundstrat Global Advisors.
"It hits home that this is not going away."
Should President Trump's health start to suffer, don't be surprised to see stocks tumble. But staying long on equities is likely the right move until that happens.
If a stimulus bill hits, being out of the market would incur some devastating FOMO for investors on the sidelines. Bulls returning to the fray could cause share prices to rally mightily in response.
So, as usual, the strategy now is to watch and wait. Keeping "one foot out the door" is likely the wise move at the moment, but don't exit the "room" (i.e., market) completely just yet.