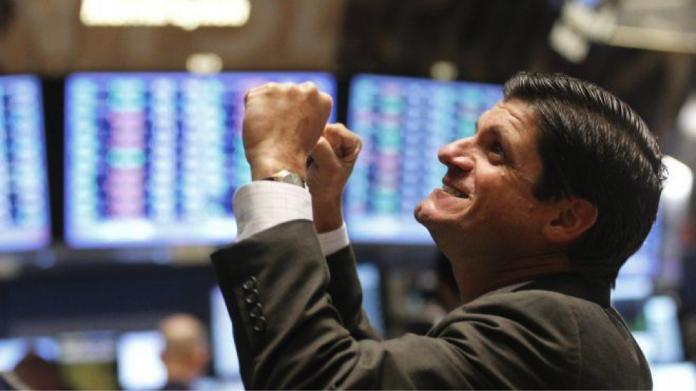 The market's soaring this morning on a "one-two punch" of good news. More vaccine optimism, coupled with a somewhat smooth economic reopening has investors ready to buy once more.
Even after last week's near-historic gains.
American biotech firm Novavax (NASDAQ: NVAX) announced on Monday that it started the first human study of its coronavirus vaccine. The company expects results concerning vaccine safety and immune response to be available some time in July. The announcement comes just eight days after Moderna's (NASDAQ: MRNA) vaccine trial successfully created COVID-19 antibodies in all 45 of its participants.
The market learned that economic activity was on the rise, too, in response to reopenings across the U.S.
Several sectors – hotels, cruises, and airlines, in particular – saw an immediate lift as a result. Automakers got in on the action as well, as Ford (NYSE: F) shares surged over 4% alongside GM stock (NYSE: GM), which jumped more than 6% at the open.
Now, the S&P 500 is trading above 3,000 for the first time since early March, when the indexes were crashing. The tech-heavy Nasdaq Composite, meanwhile, is only 4% off its all-time high.
Analysts remain split on whether the market is truly deserving of its current valuation.
Ian Shepherdson, chief economist for Pantheon Macroeconomics, warned investors that an economic bounce-back won't show itself immediately.
"In the wake of the easing lockdowns, the economy is beginning to pick itself up from the floor, though the monthly indicators will be grim for the next few weeks because of the lags in data collection and publication," Shepherdson wrote in a note.
Chris Rupkey, chief financial economist for MUFG Union Bank, noted that recessionary fears may finally be put to rest.
"Net, net, the worst may be over for the economy if new home sales and consumer confidence are important for setting the economy's sails in a new direction away from the stormy seas of recession," Rupkey explained in an email.
"The economic data have been so darn grim lately with job losses in the tens of millions that the green shoots of optimism from better consumer confidence and new home sales are welcome. We still can't see a V-shaped recovery, but at least this is looking like the shortest recession in history which will be measured in months not years."
Providing significant headwinds to the ongoing reopening efforts is a potential resurgence in COVID-19 cases.
"We now see a trend in an uptick in hospitalizations. It's a small uptick, but it is an uptick and it's unmistakable and it is probably a result of reopening," said Former Food and Drug Administration Commissioner Dr. Scott Gottlieb this morning.
"I'm concerned there are people who think this is the all-clear, and I think what we really need to be doing is defining a new normal. We're going to need to live differently until we get a vaccine."
And, like so many other experts over the last few months, Gottlieb reinforced the need for a medical solution to get the U.S. back on its feet.
Without one, stocks are unlikely to go any higher. At present, bulls have already priced-in a whipsaw economic recovery, making the market appear overbought.
The truth is, though, that it could take years before we get back to normal.
Even with a vaccine.
So, as tempting as it may be to buy, plenty of savvy traders are using the current wave of optimism as an opportunity to go short.
Historically, almost all rallies endured a sell-off at some point.
Thus far, the COVID-19 rally hasn't corrected. The market came close to doing so in early and mid-May, but the sudden downturns never materialized into anything more serious.
Stocks are due for a fall, slight as it may be. Bulls potentially signaled an upcoming market-wide "pause" today by going overboard once again.
And when that (possibly temporary) downturn arrives, traders who sold short at the top will make out like bandits, right before they go long again as the indexes reverse for another round of vaccine-driven gains.