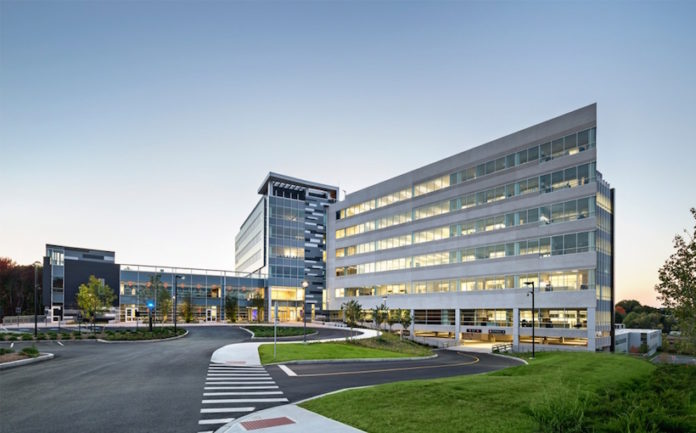 Stocks closed mostly flat today, concluding a volatile week with an indecisive trading session. Worse-than-expected Netflix (NASDAQ: NFLX) earnings kept the market limited as investors digested whether the rest of Big Tech will disappoint, too.
Facebook (NASDAQ: FB), Amazon (NASDAQ: AMZN), Apple (NASDAQ: AAPL), and Google parent company Alphabet (NASDAQ: GOOG) – the other members of FAANG – will join Netflix in reporting Q2 earnings in the coming weeks.
Sadly, the streaming giant's quarterly results fell short of analyst estimates. EPS clocked in at $1.59 vs. $1.81 expected even though Netflix added 10.09 million new subscribers (vs. 8.26 million expected).
"These earnings are lava," explained Evercore ISI analyst Lee Horowitz.
"[They're] not good enough relative to exuberant expectations heading into the print which drove NFLX shares to all-time highs."
The company believes that subscriber growth – the one major positive from the Q2 report – is set to fall-off as Covid-19 subsides.
"We live in uncertain times with restrictions on what we can do socially and many people are turning to entertainment for relaxation, connection, comfort and stimulation," Netflix said in its earnings letter to shareholders.
"In Q1 and Q2, we saw significant pull-forward of our underlying adoption leading to huge growth in the first half of this year. As a result, we expect less growth for the second half of 2020 compared to the prior year."
Investors dumped NFLX shares in response. The stock finished the day down 6.52%. Amazon, another market leader, dropped by 1.2%. Microsoft and Apple, meanwhile, slumped for 0.5% and 0.2% losses, respectively.
It was a rough day for Big Tech, and potentially indicative of a wider-scale correction for the rest of the market. FAANG and Microsoft will likely dictate the next trend.
Right now, those stocks are pointing slightly down, suggesting the general market could be doing the same very soon.
And though negative momentum is beginning to build, there are still a few stocks showing signs of strength, particularly REITs, which may have bottomed out a few sessions ago.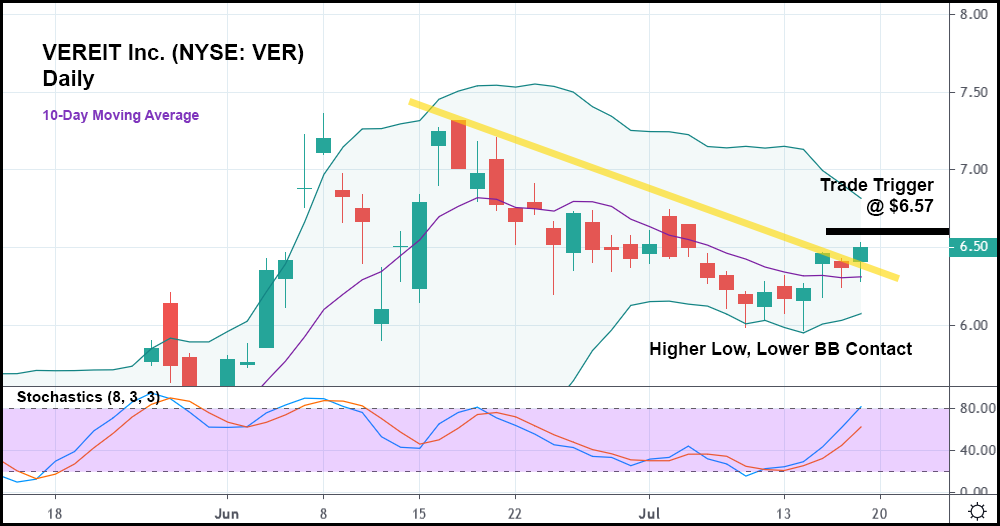 VEREIT Inc. (NYSE: VER), a REIT as its name would imply, has been selling-off since it "double topped" back in mid-June. The stock tumbled for weeks, failing to break out above the 10-day moving average the entire time.
Then, finally, three days ago, VER managed to do just that after bouncing off the lower Bollinger Band. Today, it broke out above its minor bearish trend (represented with the yellow trendline).
For that reason, it might make sense to take VER long if it trades above today's high with a trade trigger of $6.57.
Things aren't looking good for the general market, but as a REIT, VER could certainly blast higher in the next few days, right up to its June highs.
If it does, selling at those highs could be a good idea and, better yet, a great way to capture some quick gains before the trend flips over.